Club Spotlight: Diversity Club
On a typical Thursday afternoon, floods of students leave their lockers and go to the bus or a waiting car. It's almost the weekend, and the student body of CHS is excited to go home. However, across the curve, students who aren't ready to leave flock to a math classroom to engage in a Thursday tradition: the school's Diversity and Social Awareness Club meeting.
Advised by geometry teacher Karen Kurcz, Diversity Club is a weekly event that occurs in Room 216 every Thursday from three to four. Though some may just be hearing of the group's existence, the Diversity Club has been an extracurricular option at Chelsea for a long time now.
"Gosh, it's only eighteen years," Kurcz said of her tenure as club advisor. To put that into perspective, Kurcz has been teaching at Chelsea for twenty years, meaning that for 90% of her Chelsea career, she has led students in the expansion of their knowledge about world issues and more local communities. However, even though Diversity Club has existed for so many years, not all of those were very active in terms of memberships.
"Sometimes it was alive and sometimes it wasn't very alive," Kurcz said. "So it has had its kind of ebbs and flows. Some people were interested in getting back on board, and then sometimes there's a lull."
Even with the back and forth of a fluctuating membership, Diversity Club has a tight-knit schedule that forms the basis of every meeting.
"So we start with some pizza and an icebreaker," Kurcz explains. "Sometimes we'll play a game. And then somebody has volunteered to bring in a topic, and we have a set of slides that is pre-made, and then they just put their information on those slides. Usually there's a video to watch and kind of think about and then we all kind of talk about the issue and dig into it. And it can be anything."
Though a structure for the club does exist, sometimes meetings go outside the norm. The group sometimes engages in out-of-school activities that require a little extra forethought.
"We went to the Trunk or Treat over at St. Louis Center," Kurcz said. "Last year, we put up posters for diversity in science and math."
Students who are involved in the club also remember some traditions. Sophomore Sophia Knickerbocker reminisced on "a lot of parties and fun activities" that happened last year, her first year in the club.
While Diversity Club's doors are open to anyone who wants a safe place to talk about social issues and different perspectives on the world, as well as a snack, Knickerbocker believes that what makes the club truly worthwhile is its advisor.
"Mrs. Kurcz is amazing and makes the club what it is," Knickerbocker said. "We get to know her as a person rather than a teacher, which I think is super cool."
Leave a Comment
About the Contributor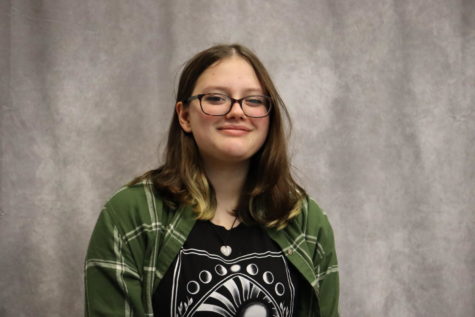 Tess Mathews
Tess is a freshman at CHS. This is her first year writing for the Bleu Print. Outside of school and reporting, she enjoys baking, practicing witchcraft,...