Merging Mayhem: Moving Up Day
Hosted annually, current eighth graders have the opportunity to spend a day in the high school. 'Moving Up Day,' is geared towards acquainting students with life at CHS Bulldog through tours of the building, encouraging interactions with clubs and organizations, and getting a chance to meet teachers. The event is hosted by the CHS Link Crew, in addition to freshman orientation during the fall. 
["Link Crew] helps incoming freshmen feel engaged and get connected with the high school," Link Crew Member Lily Paddock (24') said. "The entire Crew was placed with groups of future freshmen and acted as tour guides throughout the day. I feel like it's important for them to get to know the upperclassmen in the school." 
Throughout the day, eighth graders are led through the halls to meet teachers and get a taste of what to expect in class. Current Freshman, Kaelyn Manor reflected on what this experience was like for her as she entered CHS for the first time.  
"I remember we went to Mr. Pedlow's room and Mr. Orlandi's room and got the tour," Manor reminisced. "I like stuff like that because it kind of makes me really nervous when it comes to stuff like that and a new space. We did a lot with the Link Crew. They asked us questions and they got to know us and we got a tour around the school."
Part of the day was dedicated to a Club convention in the library. Multiple school clubs were in attendance, to hopefully peak the interest of future freshmen and get them connected with upperclassmen who share a mutual interest. One of the clubs present was Arbor Club, represented by junior Olivia Jones, who said she encouraged incoming freshmen to join a club and try something new.
"It's a good thing to participate in because it's a new environment you're coming into and if you have a chance to prepare yourself and get at least some of your questions asked about what High School will be like, then you should definitely take it," Jones explained. "Arbor club is dedicated to help the community and school grounds, contributing to the health and beauty of the nature surrounding us, and we hope to get the future freshmen interested and grow the already strong community."
Another Club in attendance was the Interact Club. Sophomore Tennyson Halacka represented and was excited to grow the club and share their values and goals.
"We work throughout the school year to help our community and to raise money for those in need," Halacka said. "We also devote our time to better the community by picking up trash or recycling. I hope that the incoming freshman will see everything that we do for Chelsea and places outside of Chelsea as well." 
Other clubs present included Yearbook, Band, SAGA, Robotics, BleuPrint, Student Council, Lettuce Club, Chelsea Athletics, CHO, Chelsea Gold, Theatre Guild,  Diversity Club and the Gamers Guild.
The goal of' Moving Up Day' was to send the future graduating class of 2028 off with some confidence and excitement after signing up for a club or connecting with some of the upperclassmen in the Link Crew. Everyone looks forward to the future adventures and experiences that come with each new year.
"Not everything has to be stressful or filled with school work," Paddock said. "Go out, connect, join a club and have fun with your high school experiences."
Leave a Comment
About the Contributor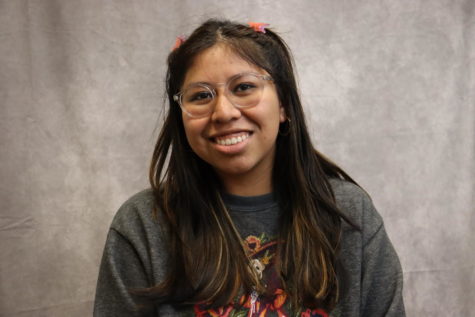 Marina Hinz-Johnson
Junior Marina Hinz-Johnson is in her first year of blue print. She enjoys writing for the student life section. Outside of school she likes to travel and...