The Journey to Greatness: Megan McCalla
Playing basketball for Chelsea is a big deal for Megan McCalla ('23). As a hardworking and truly gifted athlete, McCalla has pushed herself hard to achieve greatness. She worked through conflicts and other adversities, all to play and excel at the next level. Starting on varsity as a freshman, McCalla had to learn leadership skills early in her career and it has only thrived since then. 
"Being a leader is tough when not everyone wants to listen to you all the time so a majority of the time I lead by being places early, asking questions, working hard, and pushing everyone to help be the best," McCalla said. "Being young again this year is difficult. There are ups and downs but I think that having people like me and Leila–who has been doing this for a while–leading the Chelsea team helps make things flow between all of us."
The complicated line between being a leader and being too controlling was a line that McCalla had to draw early in her senior year. However, that hurdle was nothing compared to the other challenges that lay ahead, mainly concerning teamwork and skill.
 "As a team, I think at least a lot towards the beginning of the season we weren't playing Chelsea basketball, we weren't boxing out and we weren't pushing the ball the way that we did at the end of the season," McCalla said. "We also struggled with communication when it came to defense so it was difficult to stop teams when we didn't know what was going on."
Even though these early challenges were a struggle to get through, McCalla and the rest of the team have and continue to work hard to bond and work together to accomplish their goals.
"We do a lot of team bonding stuff like going to dinner and breakfasts and just being together the most we can," McCalla said. "We go watch the boy's games and I make sure that our coach knows when things are so we can all get super close."
As the Bulldogs continue their season with an 8-1 record which is only showing signs of increasing, McCalla continues her exceptional senior year and makes plans for after high school.
"I plan on playing basketball and continuing my education at Saginaw Valley State University," McCalla said. "I chose Saginaw because it felt like home and the coaches wanted me to come there. It also has the major I want to go into and it's a good place both academically and athletically."
McCalla has learned a lot through Chelsea Basketball and will continue to learn and bring variations of her skills to SVSU Women's Basketball program.
"I think I will bring my patience and confidence from playing," McCalla said. "I will also bring the energy and excitement for my teammates that we bring. I think that the high intensity that we have at practice helps make practice more like games."
Leave a Comment
About the Contributor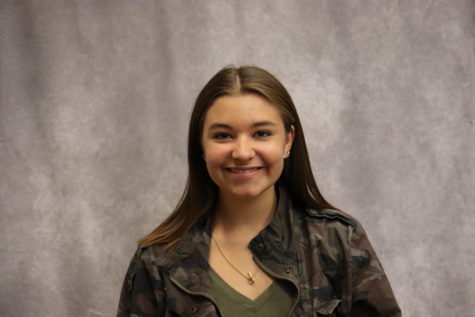 Mya Purdy
Mya is a senior at Chelsea High School and this is her first year writing for Bleu Print. Outside of writing, Mya enjoys playing softball, lifting/working...