Varsity Girls Swimming SEC Recap
The Chelsea girls varsity swim team has had a competitive season this year. Going against a wide variety of schools, the team holds a record of 7-6. Highlighting their SEC championship in November against Adrian, Jackson, Tecumseh, Pinckney, and Ypsilanti, the team took home another victory with a final score of 581.
Although the team's scores reflect part of their season, there's more to consider than just wins and losses. The team has a great bond that consists of different traditions and hard work.
Leading up to their SEC meet, the girls planned a spirit week with a different theme every day. 
"We did Fairy Princess Day on Tuesday," Amelia Christie ('23) said. "Then we did wear pink, which we always do on Wednesday. Then there's Dress up Like a Coach Day. And then Friday was Pajama Day."
With more creative themes than in past years, the team had fun celebrating each day leading up to their meet. Similarly, the team continued another tradition called Secret Swimmer.
"So in each class of the day, they get a gift from that person," Christie said. "And then we do a big gift after shave-downs on Thursday after practice. We do a team meal and then we give a big gift which reveals who had whom."
Not only did they have fun dress-up days and gift-giving leading up to the meet, but the team also spends a lot of time practicing in the pool. 
"So starting three weeks out, we begin tapering," Christie said. "So basically in the pool, we're wearing tights or leggings underneath our suits, so it causes extra drag, and we're also not allowed to shave."
By wearing leggings in the pool and not shaving, the team practiced swimming hard with extra drag so that when they reached race day, they were faster than ever despite the extra pressure on the team.
"There's a lot of pressure for best times," Christie said. "It's a meet where you shouldn't be gaining time, you should be dropping time."
The SEC title is a big deal and the team knew they were going to have to give their all. Being at this meet wasn't the time to throw in the towel, this was a time to get focused and swim hard, giving everything to get good times. 
When SECs were over and they had taken their win, the team participated in another annual tradition.
"After SECs, the tradition is you always jump in the pool with everybody and drag the coaches in," Christie said. 
The girls varsity swim team has a great environment and bond with each other. Each member participates in fun activities kept through the seasons and gets along well with each other, creating an amazing team.
Leave a Comment
About the Writer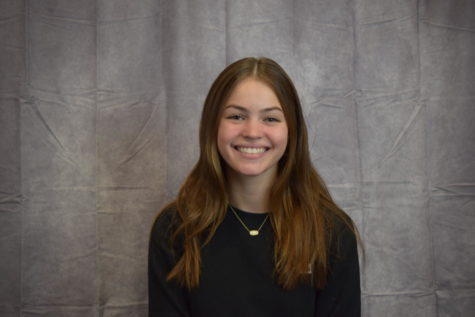 Izzy Barkey, Dept. Chair
Izzy is a senior at CHS and this is her first time writing for the Bleu Print. Outside of covering sports for the paper, she enjoys playing tennis and...