Back Again: Chelsea Song Fest
Chelsea District Library's Song Fest is back with new improvements and old traditions. The event will take place on Saturday, October 22 at the Chelsea District Library and Robin Hills Farm. This year, in addition to the normal concert, local teen bands will perform, and the songwriting event will be bigger than ever before. 
"What we did was reached out to local teen bands in Chelsea," Head librarian Shannon Powers said. "We might have some from Ann Arbor as well. We asked them if they wanted to come play." 
Teenage bands featured at this event will be WildChildz, Wicked Cricket, The Jazz Project, The UFO Factory, and individual performers. This showcase will take place in the Reading Garden at the Library from 1-3 p.m. Not just teens, but all are welcome to come watch the young aspiring artists perform. 
Following the showcase will be a songwriting class with Judy Banker. 
"We have a talented musician, Judy Banker, who's going to work with folks on how to get started in writing their own songs," Powers said. 
The songwriting class will take place from 3:30-4:30 p.m. in the Mckune room. Registration is required, but will remain open until hours before the event. If you decide at the last minute, there will still be an opportunity to go and learn to write your own music. 
"Our main event starts at 7 p.m.," Powers said. "It's a live music concert." 
Heading over across town will be the conclusion to the Song Fest. Starting off will be an interview with Martin Bandyke, the morning host of channel 107.1, and Tommy Stinson. Stinson will explain the concept of storytelling through music, and how songwriters get inspiration to write songs. The interview will conclude with a Q&A with the audience. The night will draw to a booming close with a musical performance. 
"The featured artist is Tommy Stinson," Powers said. "He was part of an 80s band called The Replacements, and then after that, he was a member of the reformed Guns and Roses."
The musical performance will begin at the Prairie House at 8 p.m. and will likely last till 9 p.m. There is no registration and no cost for the event, so everyone is welcome to come and enjoy the performance. 
The Chelsea Song Fest has been years in the making. For the last six years, Chelsea District Library Director Lori Coryell has poured months and months of planning into making this event fun and accessible for everyone in the community. 
"For this event, I'll be honest, the day that Song Fest 2021 ended was when we started planning for Song Fest 2022," Powers said. 
The Chelsea District librarians have put their hearts and souls into making Song Fest an enjoyable day for everyone in Chelsea. In return, the Chelsea community and more should come by and enjoy the music! 
Leave a Comment
About the Contributor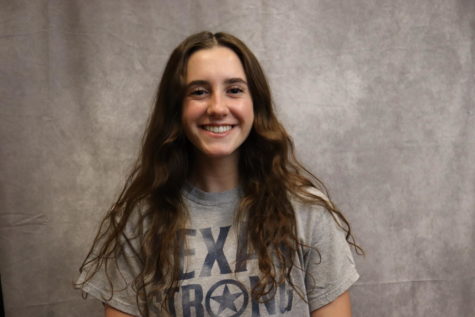 Sarah Capper, Dept. Chair
Sarah is a senior at CHS. She is writing for the Bleu Print for the first time this year. Outside of the Bleu Print Sarah enjoys dancing, puzzles, and...