Kayla Kicking Off Senior Year
You walk into a gym filled with a screaming crowd, the blinding fluorescent lights shine in your face, the whistle blows, and everyone knows it's game time. 
Welcome to the world of senior volleyball player Kayla Munson when she steps onto the court. Munson has lived in Chelsea her whole life and has played volleyball for about 7 years. Munson plays for the travel organization called Michigan Elite and has also played for the program Legacy on top of being a 4-year varsity player on the Chelsea High School volleyball team. 
"I was a starting outside hitter as a freshman which was very intimidating," Munson said. "But playing travel has definitely pushed me out of my comfort zone, I just have more experience and more reps, which just made me an all-around aggressive player." 
Munson has created a lot of memories at Chelsea. Her favorite team was the team two years ago with teammates like Megan Hause ('21) and Mya Spadafore ('22).
"My favorite memory would have to be when we were outside playing because of COVID, we couldn't play inside," Munson said. "And Mya Spad was known for literally running into everything. She ran and tripped over the volleyball line and did a complete 360 and just smacked into the ground. It was literally the funniest thing I've ever seen." 
Munson is now a captain with senior Caitlin White and junior Jenna Ouellette. Stepping into the new leadership role has taught her many things and shown her how to be the one in charge. 
"What I enjoy about being a captain is just having the role of a leader," Munson said. "It's a different feeling, it's cool to see everyone kind of look up to you in a way." 
After the team lost five seniors last year and returned two girls who played decent time, the Chelsea Volleyball team now has a very young team. They currently hold a record of 1-2 but they still have a long way to go in the season. 
"The dynamic is very different this year, and we have brand new setters, and we have brand new hitters that have never hit in their position," Munson said. "We're kind of struggling with just figuring out each other and figuring out what you're supposed to do in your position, but something we've done really well is communicated through everything." 
After a recent injury to her rotator cuff and biceps, Munson was told she has bicep tendonitis. Although it was supposed to heal in a day, the injury lasted long enough for Munson to go to physical therapy. Munson wasn't going to let her injury stop her so she switched positions outside to libero. 
"I think the hardest part is definitely just like looking at all these other hitters, watching them score kills and just being like, Oh, wow, I really wish that was me," Munson said.
Despite all the struggles of having to change her position and not being able to play normally, Munson adapted to the change. It not only helped adjust her mindset towards a lot of things in volleyball but also her own life. 
"Cherish the moments you do get," Munson said. "Do not take things for granted because you are very lucky." 
Leave a Comment
About the Contributor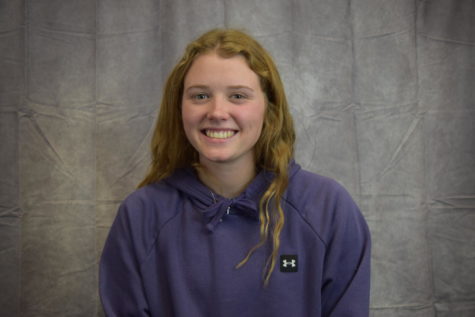 Megan McCalla
Megan is a senior in high school and this is her first year writing on the Bleu Print. Outside of writing and doing the Dog Speak Podcast she enjoys playing...