Student Council Elections Starting Soon
Student Council elections are being held on May 19th, those who are interested can visit this link to learn the steps to becoming a member of Chelsea High School's Student Council.
The Student Council's goal is to make the school environment fun and memorable for students. Members work hard all year to help plan major school events—such as school dances—and fundraisers for good causes.
"Student council's goal is to create a school environment conducive to everyone through events and use our platform to conduct successful philanthropy efforts," Student Council member Kendall Spink (22') said.
There are many things that go into being a Student Council member such as being able to problem solve, plan, and help others. Additionally, you need to be able to represent your school and class in the best way possible.
"To be a Student Council member is to represent your class and have the best interests of your peers in mind when giving input in council decisions," Spink said.
Full council meetings and class council meetings are typically held every other week. Leading up to an event, sometimes this changes. Cabinet meetings are usually held every week during event planning as well. Meetings consist of a variety of things depending on what is coming up on the agenda.
"At the beginning of the year, we jump right into planning homecoming and often meet within committees during meetings," Spink said. "We also have open floor time where council members can bring proposals they've prepared to the full group."
The Student Council has had many major successes such as this year's Mini-VictorThon. The Student Council was able to put on a very eventful night and donate over 9,500 dollars to Mott's Children's Hospital. Another major success was this year's school dances.
"I'm also [very] proud of our homecoming and winter carnival dances because we had to work through COVID restrictions," Spink said.
Being on Student Council does require some time out of your schedule so joining means you have to be ready for that.
"Challenges some students face on Student Council is just adding another thing to their plate," Spink said. "A lot of the council members are involved in lots of other activities so we try to help everyone balance council on top of other important school things."
Despite this, being on the Student Council has many benefits too. One being that you are able to help your school! You get the chance to influence school events and fundraising and be a point of contact for student requests.
"The benefits of being on Student Council are mostly being involved in things happening around the school and community," Spink said. "You get opportunities and responsibilities that you wouldn't have otherwise and it can be a great learning experience."
The experience of running for council is beneficial no matter the outcome. You can learn a lot of valuable life lessons such as planning, campaigning, and letting your voice be heard.
"Anyone interested in Student Council should run for a position, even if you don't get voted in, the campaigning and election process is really cool to be involved in!" Spink said.
Leave a Comment
About the Writer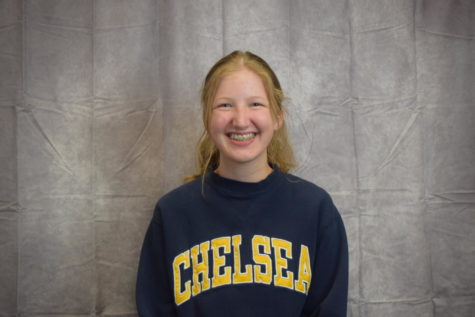 Sonja Schemahorn, Online Editor
Sonja is a junior, and this is her third year writing for Bleu Print. She is dedicated to her violin and plays in the Chelsea Orchestra program as well...