Collage Concert Returns After Two Years
Returning after nearly two years of hiatus, the CHS Collage Concert—combining the high school band, orchestra, and choir programs—is back. Highlighting all students in the music programs, including those who participated in solo and ensemble and other extracurricular groups, the concert is a non-stop event with no pause for applause between events.
"The concert is unique in that it runs for eighty minutes without stopping fitting in the best music the school can offer into one quick concert," Director of Orchestras Phillip Sylvester said. "Lighting cues jump across the room as different ensembles and solos perform for two minutes or so, and then jump to the other side of the room for the next piece."
Associate Director of Orchestras, Nathan Peters was the coordinator and performance map designer for the concert. He worked closely with Rachael Nardecchia and a team of students to prepare all the lighting cues. They made sure all of the students showcased in the concert were properly lit and placed so the audience could enjoy their music.
"Big thanks to Ms. Nardecchia and her tech assistants for making the concert run very smoothly!" Peters said.
With this concert format, the audience is able to experience all the different types of music CHS has to offer in a different light.
"This is the only concert in the year that features every musician at CHS in the same performance," Director of Bands Alison Roberts said. "The result is an exciting juxtaposition of genres and moods that keeps the audience on their toes!"
The concert is a fundraiser for the Chelsea Music Boosters: a volunteer parent group that raises money for the music programs. Money raised goes to CHS music students through grants from the Chelsea Music Boosters for guest coaches, clinicians, trips, etc. This year the music program was able to raise more money than in previous years.
"This year's concert was a huge success, with record ticket sales and constant social media buzz over the weekend," Sylvester said. "Students and teachers all had a great time, and it was quite a memorable experience for everyone involved."
Administrators who attended the concert included Dr. Julie Helber, Marcus Kaemming, and CHS Principal Nick Angel. For some of them, it was their first Collage concert in many years and they noted that the music program had done a great job working so diligently throughout the pandemic.
"The Chelsea Music Department is incredibly grateful for the support of the Chelsea Schools Administration," Peters said.
This Collage Concert was also in honor of Andrea Miller, a music teacher for the Chelsea School District, who will be retiring this year.
"Sometimes it is easy to forget that most of our high school musicians started with music in Mrs. Miller's classes in elementary school," Peters said. "We wish Mrs. Miller the best as she retires at the end of this school year."
The concert also highlighted Peter Mourad ('23) who won the State solo and ensemble concerto competition. Mourad was very excited to be able to perform in front of such a large audience as well as to see other groups perform.
"I practiced a lot outside of class for my piano solo and trio, and I attended CHO rehearsals every Wednesday night in preparation for the concert," Mourad said. "However, the majority of preparation for larger ensembles like the orchestra was in class during rehearsal. We rehearsed getting on and off the stage quickly and silently and—of course—worked on the repertoire for the concert."
Among those ensembles, Megan Hayduk ('23), Phoebe Harris ('23), and Mourad performed their Piano Trio that was recognized with honors as one of top fifty ensembles in the state of Michigan. Harris said she liked listening to all the different groups and participating in a concert that is a slightly different format than usual.
"The dress rehearsal was very helpful in getting used to the format since only the seniors have ever done a collage concert before because of covid," Harris said. "Also us all cracking up on stage was lots of fun."
Additional performances by CHO, Jazz band, and Company C—which is now run by the Director of Choirs Aaron Pollard—were also made at this concert.
"For me, highlights of the concert were the combined band, choir, and orchestra performances, as well as the chamber groups," Roberts said. "Performing in a small group, like a trio or quartet, really showcases the hard work of students on their instruments and voices."
Students, directors, and the audience had a lot of fun being a part of this concert and many look forward to next year.
"I had a great experience being a performer at the concert and I'm looking forward to it next year," Mourad said.
Leave a Comment
About the Writer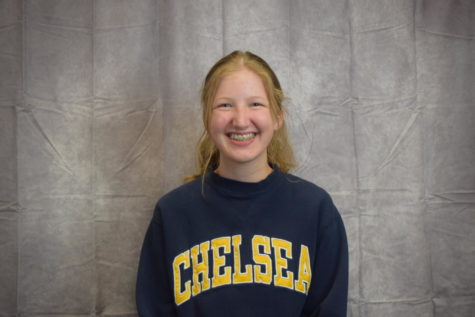 Sonja Schemahorn, Online Editor
Sonja is a Sophomore and this is her second year in the BleuPrint. Other than editing and writing for the BleuPrint, Sonja is involved in Arbor Club, Interact...