"A New Normal": The Purple Rose Theatre Company
"A New Normal" features groups and businesses in the Chelsea community that are reopening and adjusting to the "new normal" as pandemic restrictions are being lifted. You can look for new editions of this series on a weekly basis.
When people think of Chelsea Michigan, they often think of one of three things: the local businesses, the Bulldogs, and the art.
No matter where you look in Chelsea, art finds a way to make its voice heard. Whether it is the murals painted in the alleyways, the sculptures lining Main Street, local musicians singing, or performers acting on the stage of The Purple Rose Theatre.
The Purple Rose Theatre Company (PRTC) was founded in 1991 by actor and Chelsea native Jeff Daniels, and it is located in the historic district of Chelsea's downtown. Shortly after its opening, the theater temporarily closed down to expand. The theater reopened in January of 2001, with much more space for performances. Even with a larger space, the theater kept the same amount of seats in the audience. With only 168 seats, each is approximately twenty feet from the stage, so every patron gets an intimate, up-close, and personal experience with the performers.
"Our theater seats 168, there are five rows and the fifth row is no more than 20 feet from the stage," Director of Donor Engagement Rob Caplis said.
This closeness connects the audience to the story in front of them and helps viewers see the details in actors' makeup, costumes, and other small touches that often go unnoticed. Sadly, the pandemic, as it did to so many other things, brought that closeness to a halt.
When the shutdown began, everyone was confined to their homes. Many of us got very comfortable with using Zoom, FaceTime, and many other means of virtual communication. PRTC—who began live-streaming readings of new plays during the pandemic—was no exception
"We have a partnership with Chelsea District Library, and through the pandemic we were doing all these Zoom readings, it was a great thing, it really helped us," Artistic Associate Lucas Daniels said. "[Live-streaming] is something that we kind of discovered from the pandemic which is kind of nice."
Before the shutdown, they held these readings in person. For over ten years, the Chelsea District Library has invited PRTC to present its' almost-monthly script readings in the McKune Room, which can only hold about 75 people.
"By doing it through Zoom, whereas before we had 75 people in person, we would start to get sometimes between an average of about 400 people, and sometimes as many as 700 people," Caplis said. "There would be people coming to us, all across the country and even across the world. There were even some folks that were calling in from Poland."
Without concerns for travel, expenses, and all other arrangements, theatre-lovers from all across the world could tune in to watch as new plays were developed in front of their eyes.
"Developing new plays is critical to Jeff [Daniel]'s vision of the theater, and so when we do a script reading, in many ways it's like product development in the sense that it gives us a chance to hear the words out loud and [see audience reactions]," Caplis said.
Although Zoom posed a challenge for many, PRTC found a lot of good in this new venture.
"The other thing that we got out of this pandemic is we did this big fundraising event where my dad [Jeff Daniels] live streamed four concerts from our studio," Daniels said. "From that, we went on 'tour,' live-streaming from the studio here on our property."
"We did 75 live-streamed shows," Daniels continued. "It was pretty amazing…one night we were [performing] in Western California, but standing in our studio in Michigan, then the next night we were performing in Australia."
The virtual shows were wildly successful. Audiences loved being connected, even from almost 10,000 miles away.
"As we move into this next phase of the pandemic, Lucas and I have been talking about how to do a video capture that might allow for in-person but certainly still allow for actors to interact with one another in a room, as opposed to interacting with faulty internet connections via Zoom," Caplis said. "The plan going forward is to offer more of a hybrid than we had before where it could be in person or if not in person but definitely a live capture to allow us to expand beyond the confines of a room that can only hold 75 people."
In its third year, the pandemic has now touched everyone's lives. Thankfully, now that much of the country is vaccinated, we can hope for a healthier future. As we begin to enter this "new normal," many previously-closed businesses are beginning to reopen. Of course, things aren't exactly "normal", as much as we may wish that they were.
"We have the state guidelines, then there are guidelines like the CDC guidelines, and right now the Actors Equity Association guidelines are more stringent than the CDC," Caplis said.
There is a lot of work being put in behind the scenes to ensure every audience, cast, and crew members' safety.
"We've overhauled our H-VAC system to allow for increased ventilation and air circulation, and one of the things that Actors Equity Association has us have on all productions is a COVID safety officer," Caplis said.  "This COVID safety officer kind of oversees making sure that everyone has their testing requirements, helps get them the proper supplies, will occasionally remind people to keep a distance or wear their mask or wipe down surfaces for us."
The officer has also made an effort to ensure that all audience members will be over six feet away from actors at all times. The staff is vigilant about being proactive about preventing the spread of COVID, rather than only being reactive to new cases.
"We are keeping an active eye on things because things are changing, the guidelines are changing," Caplis said. "We want to make it as accommodating as possible, but also as safe as possible."
Along with the precautions in place, there are quite a few requirements in place for everyone in the building.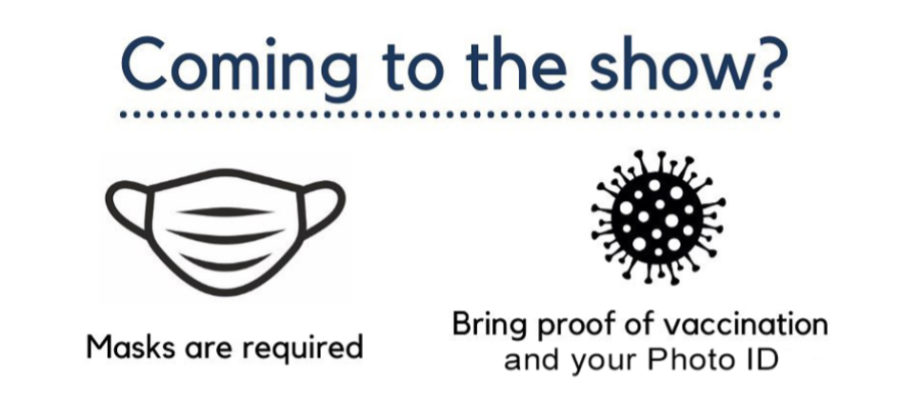 "If you're part of the crew, you do a rapid test three times a week," Daniels said.
PRTC requires audience members to wear a mask that covers the entirety of the nose and mouth, be fully vaccinated (14 days after receiving the final dose of authorized COVID-19 vaccine), and show both proofs of vaccination and ID.
"Right now, we have not had any covid cases among the actors, cast, and crew for probably two, three weeks now," Caplis said.  "All the safety efforts that we have taken means that we have not become a 'superspreader' event for our patrons, and that we have not caused any transmissions between ourselves backstage while we're helping actors change costumes or in the booth, places where six feet of distance isn't necessarily possible."
Of course, big changes like this do now come without a bit of pushback. You can never please everyone, no matter how hard you try.
"There have been some patrons who are not happy with our policies," Caplis said.  "But, there have been just as many patrons who have said that they are thrilled with our policies."
In the end, the top priority of Caplis and other theater leaders is the safety of all actors and audience members.
"We want to do everything we can to make [audience members]  feel comfortable, so they don't have to worry about [safety], they can focus on the play that we're presenting and go along with the journey and not have to worry about if they're going to get COVID."
Leave a Comment
About the Contributor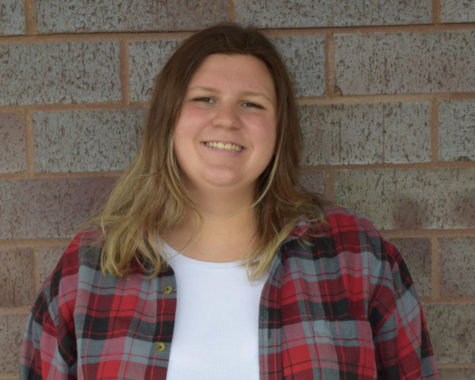 Gillian Blaszkowski, Community and World News Editor
Gillian is a senior and this is both her first year at CHS and on the Bleu Print. She spends her time acting, reading, and playing video games. She is...