Athlete Spotlight: Bram Hartsuff
Bram Hartsuff ('23) has been looking forward to the 2021-2022 Swim and Dive season for quite some time now. All the hard work that the team has been putting into improving times and skills will hopefully pay off as the team moves forward in their season.
As a member of the CHS Swim and Dive team, Hartsuff is proud of all the work that the team has been putting in between each meet. Personally, Hartsuff has finished his events with fast times in swim meets, and is aiming to improve his time in the 200 freestyle.
"I plan to practice every day, work hard and do all the parts that [the coach] sets out for us," Hartsuff said.
Despite a poor performance in a previous swim meet at Milan High School, Hartsuff still has positive thoughts about how Chelsea's going to perform for the rest of their season.
"I think we're going to do pretty well this year, meaning we have a good chance of winning the SEC championship," Hartsuff said. "I also think we're going to improve from last year."
Hartsuff believes that the team has been improving as a whole by training hard in practice and following the workouts provided by their coaches.
"Besides freestyle, I mostly practice breaststroke because that's what I want to get the best at this year," Hartsuff said.
Each practice, Hartsuff puts in his best effort to improve his times. Rather than just practicing a couple strokes, he tries to do the most he can to improve his overall performance in the pool.
"I've been doing pretty good," Hartsuff said. "I really like to work hard, and it helps to have my teammates there with me."
Leave a Comment
About the Contributor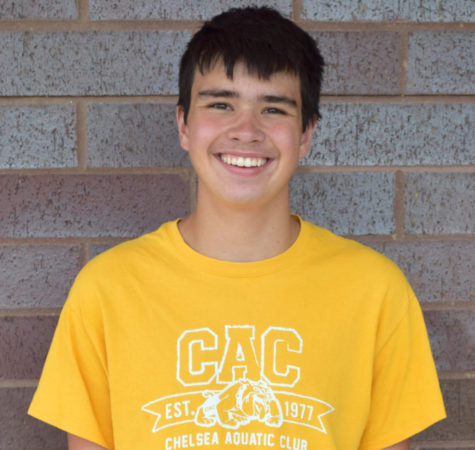 Gabe Muckel, Bleu Print Staff
Gabe Muckle is a worker in the sports department of the bleu print. He does cross country, swimming, and track and field for his three sports. He is always...