Bulldog Spotlight: Emily Rosolowski
The lights start to dim as the show is about to begin. After putting the final touches on the last costume, the frantic customer lets out a sigh of relief as the opening music plays and the lights shine on the costumes she has created. All of her hard work has paid off.
When Emily Rosolowski ('20) was first interested in theater, she planned on working in tech. However, her plans changed when she saw the middle school drama club perform for the first time.
"I went to the drama club to help paint sets," theater major Emily Rosolowski said." I watched the auditions and that's when I decided to audition as well."
After middle school, Rosolowski would continue to act and be involved in theater throughout high school.
"I did the fall musicals and the spring plays," Rosolowski said. "I've also directed plays that Katie Moore ('21), a former student at Chelsea High School, has written and have assisted directed for Paige Conway, the director at the high school, during the spring plays."
Becoming a theater major wasn't always the plan Rosolowski had for the future and it definitely wasn't easy either.
"It was a struggle and I cried a lot," Rosolowski said. "At first, I wanted to go into teaching. But then I met a professor at U of M Flint who was also a costume designer. I realized through her that if I get my masters degree, I could do both teaching and costume design."
Although she enjoys her major, Rosolowski also faces the difficulties that come along with it.
"People will often talk down about my career," Rosolowski said. "They will often say it's hard to get into, but any career is hard. People are often stuck in a career they don't like, and I didn't want that."
However, Rosolowski wasn't without support. Her high school director advised and helped her through her decision to become a theater major.
"Paige Conway influenced me the most," Rosolowski said. "She helped me navigate through all my college scholarships and interviews. She was very supportive. She kind of threw me into costumes and makeup but I'm grateful she did."
When looking for a college to commit to, Rosolowski had a few options. She received scholarships from both Michigan State University and Illinois State University. But in the end, Michigan State had more advantages.
"Michigan State had the most to offer," Rosolowski said. "I knew I would be able to learn the most there and have experiences that would help me in the long run."
One of the opportunities that Michigan State offers is the chance to have hands-on experience in both costume design and designing ongoing shows.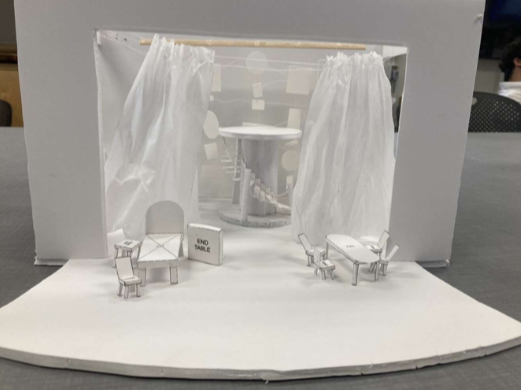 "I work in the costume shop," Rosolowski said. "I [either] sew costumes all day or clean up after a show."
Rosolowski's focus has always been on costume design, but she says she would like to try other things in the future.
"I would like to learn how to make wigs and facial hair because most broadway shows use wigs," Rosolowski said.
From what started with just wanting to paint sets for a drama club play has turned into a world of opportunities and eventually her career choice. It's not time for the curtain call just yet. Emily Rosolowski has much more planned.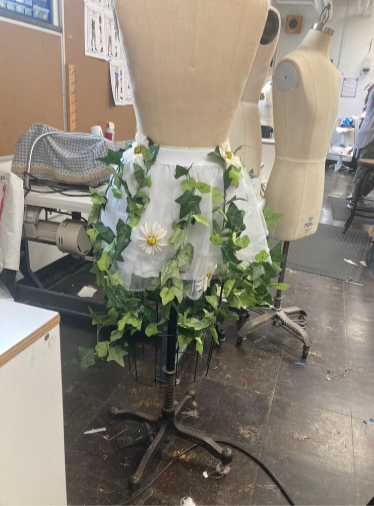 "In 5-10 years, I'll hopefully have my masters and [be able to] apply for teaching jobs at universities," Rosolowski said. "I hope I'm at a university I like or at least making connections with people. I want to teach costume design and maybe do some [other] design jobs on the side."
Rosolowski knows the challenges of going into a theater major. But she also loves what she is doing. She encourages everyone to do what they love.
"My advice would be to look at all your options and talk to people," Rosolowski said. "My mom pushed me to set up interviews and it really helped. Just have a plan, and a backup plan if needed."
Leave a Comment
About the Contributor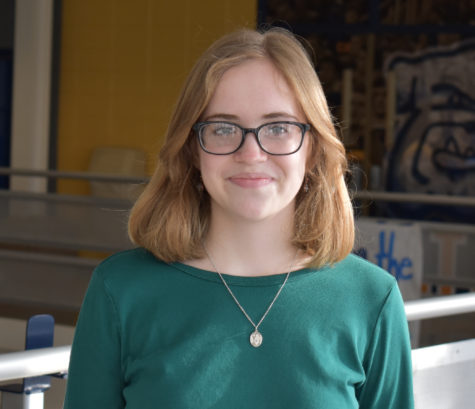 Elise Rosolowski, Arts and Entertainment Editor
Elise is a junior at CHS. This is her first year writing for the Bleu Print. She enjoys doing color guard, playing with her dog, and listening to K-pop.