Naar Leaves CHS After 10 Influential Years
Art teacher Laura Naar is leaving the high school to teach art at the elementary schools. She has been teaching at Chelsea High School for ten and a half years, and in that time has made a significant impact on the school. Naar loves teaching art, because "everyone is an artist."
"What happens is we all know how to express ourselves when we're little, and we're very free about it," she said. "But then we start comparing ourselves to others, we start losing our confidence, and we start getting nervous that we don't measure up." 
When she teaches students, Naar enjoys helping them realize that they are artists.
"It's fun to get kids reconnected and have them surprise themselves with their skills when they see a different and expressive side of themselves," Naar said. "That's why I like teaching art: seeing what they make and how creative they are. Kids somewhere along the line lose their creativity because it's not really in a lot of the core classes. Creative problem solving is a big thing, and it's 100% what art is."
Naar first knew she wanted to be an art teacher when she was taking a year off school in Hawaii.
"I knew I had to go back to school, but I didn't know what I wanted to do," Naar said. "So I said, 'I'm going to go to bed tonight, I'm going to wake up tomorrow, and I'm going to know what I want to do with the rest of my life.' I had a dream about my elementary school art teacher, and I called Eastern Michigan that day and I got enrolled over the phone. Then within three weeks, I came home, and I started classes to be an art teacher. That was it."
She likes teaching art to kids because "it's just fun."
"The kids are usually excited about it, and we can play music and be chill. My hands are moving all the time. It's just like being in an art studio, but you've got other people there."
Her energy in class carries over to students and leaves an impact on them.
"Naar has definitely been one of the most influential teachers in my life, and her optimism and positivity always brightens my day," Abbie Dobos ('21) said. "I'm always inspired by how much she cares for each of her students and her passion for helping others. She always knows how to make you feel better and her energy makes long days better."
Naar's favorite memories while teaching at CHS are helping found #WhyYouMatter, and "just the stupid stuff," like paintbrush funerals and jamming to favorite songs. She also enjoys the relationships she builds with students.
"I enjoy the relationships with kids; I have some kids that I had as high school students, and now we still meet up for coffee and see what they're doing,"  Naar said.
The building of #WhyYouMatter is only one thing on her long list of accomplishments at CHS. Not only does she teach classes, she's helped students paint at least a dozen murals in the last five years. She also helped build up the photography department and start a graphic design department. But #WhyYouMatter sticks out in her mind.
"I'm really proud of #WhyYouMatter, because it was something that we started here and it went nationwide," Naar said. "It was pretty cool."
#WhyYouMatter has reached every student at CHS for multiple years.
"Her work with #WhyYouMatter has been so impactful for so many at CHS, and I'm so glad that I've had the opportunity to be involved," Dobos said.
While she loves the work and students at the high school, she's looking forward to the new classes she'll be teaching.
"I taught elementary level kids for ten years before switching to high school," she said. "I decided to go back because I want a change and a new challenge."
As she begins a new chapter, she wants to leave her students with the message that it's okay to fail and have to pick yourself back up again.
"Don't take it so seriously," Naar said. "It's okay to put yourself out there, and try new things, and it's okay to not be good at them at first; it's not something you should be embarrassed about. I fail at everything I do first, and then eventually get there. In Chelsea, everybody's afraid to get a bad grade, everybody's afraid to fail, but there's a beauty in failure—there really is. Don't be afraid to fail."
Naar says she'll miss everybody at CHS and invites students to come visit. However, she'll continue to spread her influence and positivity in Chelsea and impact students for the better.
"I'm definitely sad that she's going to be leaving CHS with us seniors and that the underclassmen won't get to know her as well, but I know she's going to bring her light and love to the elementary schools and she will be amazing," Dobos said.
Leave a Comment
About the Contributor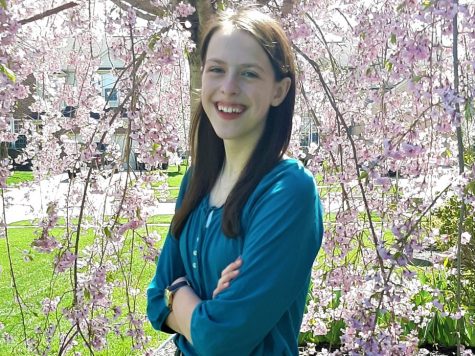 Lillian Snyder, Bleu Print Staff
Lily is a freshman at CHS, and the natural conclusion is that this is her first year writing for the Bleu Print. Besides writing, she enjoys playing the...