Athlete Spotlight: Double Trouble Tennis Team
Sara Martin ('24) and Lizzie McGuire ('24) have been doubles partners since sixth grade.
Martin has been playing tennis seriously since sixth grade, and McGuire since fifth grade. They both enjoy tennis because of the fun of the game, but also because of the work they put in as a team to improve their playing.
"Being friends outside of the sport has also really helped," Martin said.
Playing doubles presents unique challenges. Martin said "figuring out your place" can be difficult, and having to rely on somebody else is challenging and takes time to get used to. Knowing someone else is also relying on you adds pressure as well.
"Knowing it's okay if you miss a ball, that it's not the end of the world, is hard," McGuire said.
With the challenges, though, Martin and McGuire have adapted and changed their playing when necessary.
"I played net for three years, and then the coach told me I'm too short to be a net player," Martin said. "So then I played back, which I hadn't ever done. Now I actually prefer back."
Playing together for so long, Martin and McGuire have matches they will never forget.
"There was a match where we were losing 5-0, but then we went ahead and won the next six games to win the set," Martin said. "That was really cool. All we did was switch the sides that we were playing on, and then we instantly started winning way more points."
Along with epic comebacks, Martin and McGuire have also had their strong matches where they dominate the other team, and even teach them to play tennis.
"There are three separate occasions where Lizzie and I have taught the team that we're playing against in a match how to play the game," Martin said. "They didn't know where to stand, or how to hold the racket, or how to serve, so we had to teach them during the match, and that was kind of fun."
Martin and McGuire recently started their first year on the junior varsity tennis team, which has been different than most years because of COVID-19.
"It's weird, but it's going well," Martin said. "I'm playing well for the most part and improving, but it's definitely weird. It's not what I expected."
One thing both Martin and McGuire enjoy about playing doubles is that there's always somebody there with you, for the good and the bad.
"I get to talk to somebody, and I'm not the only one that's going against this team," McGuire said.
Martin and McGuire are both ready to have a good season with a positive attitude, aiming to "destroy" all their opponents. They've come far as a team and are ready to face their challenges as a doubles team together. 
"It's definitely a lot more fun when you have a team," Martin said. "Then, when you mess up, you have someone to laugh about it with you. It's also nice to have someone there with you, so then you both have your off-days, and you both have your good days."
Leave a Comment
About the Writer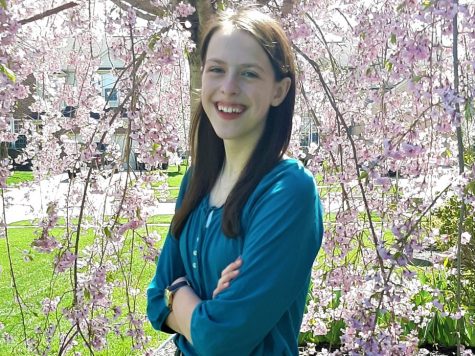 Lillian Snyder, Bleu Print Staff
Lily is a freshman at CHS, and the natural conclusion is that this is her first year writing for the Bleu Print. Besides writing, she enjoys playing the...