Bulldog Spotlight: Ella Cowhy
Ella Cowhy ('21) can be found either studying hard, improving her skills on the soccer field at CHS or experiencing the world. 
Cowhy is a great soccer player and has been involved in the sport ever since she was about four years old, starting out with little rec league soccer practices to eventually playing with Chelsea Soccer Club and at CHS.
"Soccer has helped shape me as a person and I have met many great friends along the way," Cowhy said. "I have learned so much from the sport and it has taught me a lot about leadership, grit, patience, and pushing through hard times."
When Cowhy isn't playing soccer or studying hard, she is traveling all over Michigan, the United States and even the world. Over the years, she has had many wonderful opportunities to experience different cultures and countries such as Austria, Switzerland, Germany, Lichetenstien, Japan, and Mexico.
"My favorite country that I got to visit was probably Austria or Japan," Cowhy said. "Japan was such a cool culture shock for me, and everyone there was super nice. When I was in Austria I got to visit Vienna, where the Sound of Music was performed, and the mountains there were just absolutely incredible."
She has used the lessons that soccer and traveling to other cultures has taught her over the years to help her push through the hard times that COVID-19 has brought upon her in her senior year. Like many seniors, it has affected her in the process of applying to colleges and taking the SATs. 
"I feel like this year I've really had to advocate for myself and find my own scholarship opportunities, when deadlines are due and ways to retake the SAT," Cowhy said.
The work she puts into her academics and the opportunities she's had this year have led her to narrowing down her choices as she prepares for her future.
"I'm deciding between the University of Michigan, Michigan State University, and Calvin University," Cowhy said. "I plan on going into either the medical field of some sort or the dental field."
Cowhy has many reasons for why she wants to go into dentistry, but her biggest reason is she has many family members in that field.
"My relatives who have become dentists or oral surgeons have always told me growing up that this field is very rewarding," Cowhy said. "I really enjoy being around a lot of people and I just love seeing everyone's amazing smiles."
Cowhy has a very exciting and bright future ahead of her, helping others one smile at a time.
Leave a Comment
About the Contributor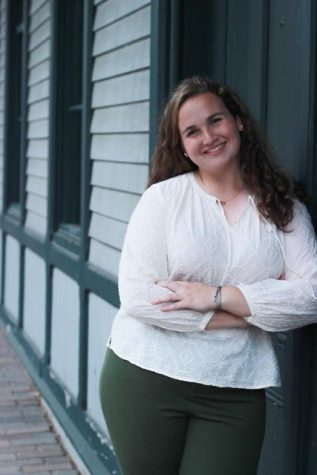 Katherine Thoms, Bleu Print Staff
Katherine is a senior at CHS, and this is her first year writing for The Bleu Print. Outside of The Bleu Print, she enjoys playing softball, working out,...