Artist Spotlight: Katie Moore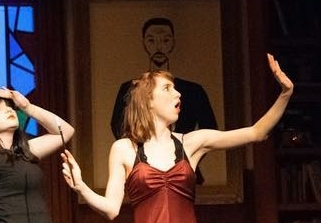 Katie Moore ('21) is an actress, a writer of everything from plays to essays and a cat lover. When Moore is not working on set, she is writing things to be performed.
Moore often draws inspiration from the media and the world around her. She is inspired by books and tv shows, and she never has a shortage of things to write about. 
Moore recently discovered a love for witches among other things. Just this fall, the Chelsea Theatre started preparing her radio play Wonderful Wacky Witches for release.
Writing can be difficult when writer's block comes along. When Moore faces it, she finds the best thing to do is simply take a break to re-group and gather her thoughts. Moore writes about everything and whatever is fueling her at the time.
"I don't like to confine myself to one genre, so I write about whatever strikes my fancy," Moore explained.
While Moore doesn't have a favorite genre to write, she is particularly passionate about writing plays where young women are main characters, because women are often undermined or overlooked in the media. Being able to write is a skill that Moore has been perfecting for years but still has trouble with from time to time.
"The hardest part to write is the middle," she explained. "I usually feel pretty good about my beginnings and most of my ends, but the middle part, where everything is supposed to get higher and the stakes must be raised, has always proved tricky for me."
Moore can spend as much as two weeks on one script or as little as a couple of days depending on her mood and schedule. All of the ups, downs, successes and failures allow Moore to grow as a writer.
"I love writing because to mthere's nothing more beautiful than to create entire worlds and people out of thin air," Moore said. "All you need is a pen and your own mind, and suddenly you have this incredible ability. It's beyond powerful to me."
Leave a Comment