Women's Basketball Team Finishes Season as SEC and District Champions
The Bulldogs finished the season strong as SEC and District Champions with an overall record of 13-3.
Head Coach Tony Scheffler explained that by winning both the championships and going 8-0 in the league, the team reached two of its three main goals on the season, the third goal being winning regionals.
"We obviously came up a little short in regionals, but anytime you can achieve several goals that you lay out before the season, I think that was a pretty good year," he said.
From summer practice outside at the courts by Beach Middle School to quarantine in the middle of the season missing three games, this was a season like no other with a lot of uncertainty as to whether or not they would get to play at all.
"It was definitely a long but short season with everything we went through, but the girls handled it awesome and had a great season despite all the obstacles," Scheffler said.
On March 26, the Bulldogs won in the District Championship. Before playing Tecumseh for the title, the Bulldogs had already beat Tecumseh twice this season by twenty points, so it was hard for the team to "stay focused" during the district game.
"It was a much different game than the first time, and the girls handled that well," Scheffler said. "It was a close game the entire way, but we were able to just out last them."
After beating Tecumseh 40-33, the Bulldogs fell to Lansing Catholic 64-32 and ended their state tournament run on March 29. Coach Scheffler said Lansing Catholic was a "skilled young team" that started four freshmen.
"The game plan was just to overpower them, finish at the rim, and do all the simple stuff to be a more skilled team, but we just weren't able to execute it," he said. "We got behind early and were never able to catch up."
Another notable game from this season was the one against Milan where nothing was "going our way at all." The Bulldogs came back from being down 15 at the start of the fourth quarter by scoring 27 points.
"The girls played so hard and the energy was insane during the fourth quarter," Scheffler said. "That win triggered our run late in the season and gave us energy and the mindset that we were able to always overcome, even if we got down. The memory of that game sticks out among others because of the locker room energy and how excited we were to get that win."
The team's leading scorer for the season was freshman Leila Wells. Megan McCalla ('23), Jessica Emmert ('21), and Emily McCalla ('21) also scored over 100 points for Chelsea this season.
The team graduates six seniors this year: Emily McCalla, Jessica Emmert, Sarah Kennings, Andrea Kowalski, Grace Lane and Morgan Majeske. Scheffler said the team will miss them a lot next year.
"They persevered through COVID-19, kept showing up, got the other girls to show up, worked hard and maintained great attitudes, even at times when we didn't even know we were gonna have a season" he said. "I think that the seniors are going to go really far in life having been through this and come out the other side as SEC and District champions. They learned so much and gave this program so much."
Looking ahead for the Bulldogs, next year's team will mostly consist of underclassmen. Schefler said he wasn't sure if the program has "ever been this young" and that this year's "awesome and super talented" seniors set a good example for the younger players. 
"I'm glad that some of our younger players were able to be with this group of seniors and learn how to be leaders and how to be good teammates," he said. "At the same time, next year is a good opportunity for some of these younger kids to step up into leadership roles and compete with each other. It's definitely something different."
Reflecting on his first year as head coach after being an assistant the last two years, Scheffler said his favorite part of coaching is the team and that "the team atmosphere and being a part of something means a lot" to him.
"I have good relationships with the kids, and we enjoy each other's company," he said. "The team bond we have and the competitive nature of the team–myself included–make it a special thing to be a part of. It [being a part of the team] is something that I loved when I played at Chelsea, and finding myself back here competing for Chelsea again is a pretty cool thing."
Scheffler explained that the season felt very different than what it usually would this year, especially the postseason because along with losing, "one positive test would have ended the season at that point." Scheffler said he was proud of the team and is excited for next season.
"We played it one game at a time," he said. "It's the old cliche, but this year, it was real. I feel like the girls grew a lot throughout the course of the year and really became a team that started playing team basketball. Everyone was really sad to see it end, but at the same time, we went through a lot and felt pretty good about how we finished."
Leave a Comment
About the Contributor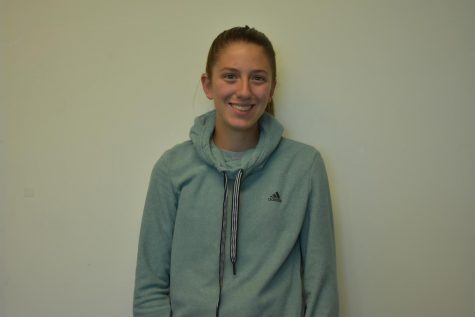 Natalie Davies, Bleu Print Staff
Natalie Davies is a senior at Chelsea High School. This is her third year with the Bleu Print. Outside of writing and editing, she enjoys running, reading,...