Students' Travel Plans in an Unprecedented Spring Break
Even though it may look different this year because of the pandemic, many students are still looking forward to spring break, a common time for traveling and relaxing from the stress of school.
A voluntary survey sent to a sample of Chelsea High School students found 27.2% travel for spring break or travel most of the time. This year, however, 45.5% of the students surveyed were traveling for spring break. Students planning to travel are excited to get out of the house, though some are nervous.
"My family and I are going to make sure to take all the necessary precautions to keep ourselves and others out of danger," Sophie Stone ('24) said.
Many students are working to take safety precautions to make sure they and others are safe while they travel.
"We are going to wear our masks in public places," Lily VanHevel ('24) said. "We are going to be continuously washing our hands and taking the usual precautions that we've done when we go outside of the house."
Students are visiting a variety of places, from Florida to Kentucky to Mexico, or even "just a cabin up north." 33.3% of students surveyed were staying in state, 55.5% were going to a different state, and 11.1% were going out of the country. 
The students traveling for spring break are looking forward to a get away needed this year more than usual.
"I feel that we have all been almost trapped in our houses for so long, that it's good to go out and about once again," Gabrielle Bowles ('22) said.
For the students staying home, there are various different reasons for doing so. Many students decided not to travel because of the pandemic.
"I'm staying home because I don't feel comfortable traveling and I have several projects I need to get done at home," Marah Putnam ('24) said. "Spring break is a great time to do that."
Another discouragement students had against traveling was that many places may not be fully open currently due to COVID-19 restrictions.
"I don't believe that traveling during this time would be very rewarding with the various restrictions," Jasmine Gabriel-Menegay ('23) said.
For many students though, having traveled during COVID-19 has made them realize that they can still have fun while being safe and following restrictions. 54.5% of students surveyed said they had traveled during the COVID-19 pandemic.
"I have already done some travelling over the pandemic, and they have been nice experiences," Jake Ward ('24) said.
63.6% of students staying home said they wished they could be traveling, though.
"I generally wish that the COVID-19 pandemic was done and I can go do something fun," Putnam said.
Many of them desire the same chance to get out of the house those traveling have.

"I have been craving something spontaneous, but I cannot do that as of now," Amelia Nelson ('22) said.
Students surveyed had varying comfort levels regarding travel during COVID-19. 50% said that they'd love to get out of the house or that traveling would be pretty fun. 9.1% of students surveyed thought that traveling wouldn't be  awful, but not exciting either. 
"I feel fine with other people going out and enjoying their spring break–we all need it," Bowles said.
However, 31.8% of students surveyed were a little uneasy, and 4.5% thought traveling was unsafe and disrespectful. 
"I don't want to contribute to the spread of COVID-19," Isabella Treglia ('22) said. "Even though there are a lot of restrictions in place for traveling, I still feel like too many people don't follow them, so it could still be unsafe."
One thing all students surveyed agreed on though was that spring break is important for many reasons, including a break from school and time to spend with family.
"I think spring break is important because it's time to spend with your family, and that's when it feels like you need a break," VanHevel said.
Regardless of whether students are traveling or not, spring break is a break everybody needs, and a nice way to begin the third trimester.
"I enjoy spring break because the second trimester is over and it's like the beginning of a new chapter," Bowles said.
Leave a Comment
About the Writer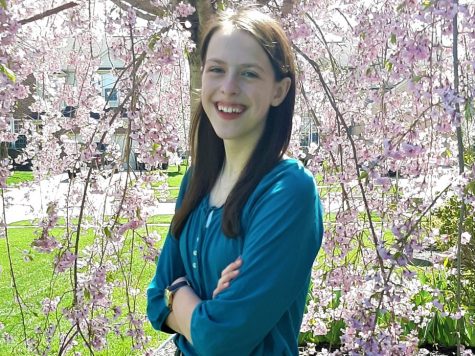 Lillian Snyder, Bleu Print Staff
Lily is a freshman at CHS, and the natural conclusion is that this is her first year writing for the Bleu Print. Besides writing, she enjoys playing the...