Teachers Face Struggles Getting COVID-19 Vaccine
As a push for in-person school has come from many people, a push has also come for teachers to get the COVID-19 vaccine so schools can reopen safely. However, as of February 24th, according to Education Week's research, only 31 states, Puerto Rico, and the District of Columbia have made some or all teachers eligible for the vaccine, Michigan being one. Teachers were allowed to begin being vaccinated in Michigan on January 11th in vaccination Phase 1B.
If done successfully, Governer Whitmer hopes to have all schools open in some capacity of in-person learning by March 1st. One of the states largest teachers' unions, the Michigan Education Association (MEA), insists that teacher vaccines must be prioritized in order to make the governor's vision reality.
"Our members see the vaccine as a critical component to reopening classrooms across the state, along with continued mitigation measures like masks, social distancing and sanitization," MEA President Paula Herbart said in a statement. "They are following the science and are embracing the vaccines' potential for protecting their health and safety, as well as that of their students." 
Though making teachers eligible for the vaccine is a step in that direction, there's still many more to go. Between vaccinating other priority groups, high vaccine demands, low supplies and difficulties scheduling appointments, vaccinations for teachers sometimes slip through the cracks.
"Being back at work and not being able to get a vaccine and not having the health department be able to help us [was frustrating]," art teacher Laura Naar said. "They say teachers are essential workers, but then we couldn't get the vaccine. The county health department was saying they were only vaccinating teachers over fifty."
According to an online survey done by the Michigan Education Association at the beginning of February, 63.06% of Michigan teachers had received or were scheduled to receive their first dose of the vaccination, while only 6.35% had both shots. However, that is higher than a survey done by the National Education Association at the end of January and beginning of February, which found that only 18% of teachers had received the vaccine with an additional 17% scheduled to.
In Michigan, the county-by-county vaccination rates vary widely, with Washtenaw County, in which the Chelsea School District is located, having the lowest teacher vaccination rates at 25.64% of teachers having received or scheduled to receive the first dose. Marquette County had the highest percentage, with 88.06%. 
Jackson County had 71.49% of teachers received or scheduled to receive the vaccine, Wayne County had 74.80%, Oakland had 67.05%, Livingston had 54.31%, Ingham had 63.47%, Leenawee had 54.20%, and Monroe had 49.63%.
The other counties, along with Washtenaw county, with lower teacher vaccination rates were Cass County, at 27.36%, and Kalamazoo County, with 31.86%.
Low vaccine shortages, among other factors such as the higher number of healthcare workers in the county compared to others, may have led to the frustration in teacher vaccination in Washtenaw County.
"We have started vaccinating and scheduling school staff, but it's limited," spokesperson for the Washtenaw County Health Department Susan Ringler Cerniglia told the Detroit Free Press. "The pace with which we can vaccinate teachers is completely supply-dependent at this point. While by March 1 or sooner would be great, we're not able to set a goal for that because of low vaccine supplies and the very large number of currently eligible individuals."
The lack of vaccinations in the county has led to frustration for many, including teachers and administration.
In a statement issued by the Washtenaw Superintendents' Association that represents Washtenaw County school districts, the association expressed their frustration regarding the lack of teacher vaccinations in the county and called on "federal, state and local officials to do more than simply say schools must be prioritized – the leaders who call for the further reopening of schools must allocate the financial resources and vaccination supplies necessary to safely re-open, expand, and sustain in-person instruction."
"Schools have repeatedly been called on to re-open and expand face-to-face learning opportunities, despite the inadequate allocation of financial and vaccination resources necessary to do so safely," the statement read. "If getting more students back to school is a priority, then vaccinating teachers must also be a priority. While vaccination is not the only risk mitigation strategy, it is one of our strongest and most effective. Schools need systemic support in order to be part of the solution in minimizing the spread of COVID-19."
The statement also called on community members to do their part.
"We call on our parents and community members to contact their elected officials, including county commissioners, state legislators, and members of Congress, as well as Governor Whitmer's Office, and the Michigan Department of Health and Human Services, to share how this issue directly impacts you, your family, and our community," the statement said.
Within the Chelsea School District, the difficulties facing teachers and administration trying to receive the vaccine has also been a problem. Naar, who has received both doses of the vaccine, expressed her frustration with the county as well.
"I don't blame the district, I blame the county," Naar said. "The county was supposed to get the shots and help work with the districts, but it didn't work that way. I know and believe our district was trying hard to get us everything they could, but I think every teacher in Washtenaw county would tell you the rollout is bad."
The Chelsea School District is working hard to get all the staff vaccinated by helping them schedule appointments.
"We don't actually do any vaccinations, but what we do is we've been helping staff [get appointments]," Assistant Superintendent Marcus Kaemming said. "Dr. Helber has been working very hard along with a bunch of different staff. We have been working to find secure locations to vaccinate."
The district began offering vaccines in early January, and have since continued offering vaccinations to as many teachers as they can.
"Early January is when we started being able to offer certain staff members of a limited number some options in vaccination, and then every week since then, we've been able to offer certain percentages," Kaemming said. "The way it's been set up in the county has been groups. They've also set it up so they've gone by age, so they prioritized 65 and older first. [It kept going down], and we recently were able to target the age-group 40-49."
Up until Friday, February 27th, the district was offering vaccination appointments to about 80% of the staff working in the district. Now the district may offer vaccination appointments for every staff member. However, offering appointments doesn't mean all teachers have taken them or been vaccinated.
"I would say very carefully they've been offered vaccination options," Kaemming said. "Vaccinations themselves are for your medical records, so that's not information we can share without breaking and violating someone's personal rights. Whether or not they've taken the vaccine or there's been schedule issues, that's on them."
The district works with two different groups to find appointments for teachers—the county health department and Chelsea Hospital. Kaemming appreciated what the hospital has done in helping vaccinate teachers.
"The hospital has been phenomenal as a resource to us," Kaemming said. "Washtenaw County Health's been great, but the hospital's been a great local ally and partner in helping us get our staff vaccinated. I would give a big shout-out from the school district to them."
The district has many hopes for how vaccinating staff will help schools reopen. Kaemming said that to the district, in relation to the Portrait of a Graduate outline, the "social and emotional branches are just as equally as important" as the academic branch. They hope to help build more opportunities for interaction that the vaccine may open up.
"What we hope is that [the vaccination will] allow us to have our staff feel at ease and that they're not at risk," Kaemming said. "From there, the decision hasn't been made, but you're starting to hear in communities around us people are starting to come back more and more. Our hope is that if we can get our staff vaccinated, we would be able to look at what's in the best-interest of all students."
Despite best efforts in the district and across the state, though, teachers have faced difficulties scheduling appointments. According to the MEA survey, only 32.26% of teachers who had or were scheduled to receive the vaccine had scheduled their appointment through their employers, with many teachers having to find appointments on their own or even go to other counties. 
Teachers in the school district have also had trouble scheduling vaccine appointments, especially those who are not high risk. Naar had to schedule her appointment on her own, and her husband, who is also a teacher in a different school district, had to go into Grand Rapids to receive his vaccine.
Biology teacher Holly Reiser is another teacher who has had difficulties getting vaccinated. She lives in Jackson county but works in Washtenaw county. Despite trying to schedule appointments in both counties, she had just recently gotten her first appointment through the school district at St. Joe's hospital in Chelsea.
"I've been trying for a long time to schedule an appointment, so it's pretty tough," Reiser said. "I'm not a high-risk person, so I think a lot of [the difficulties] play into the fact that even though teachers fall into the 1B roll-out category for the vaccine. Because there's such a limited supply for people in that step, they're still taking high-risk persons first. If you're a 1B educator, it is still based on age and health risks."
Reiser thinks that having teachers vaccinated is "extremely important" for reopening schools. 
"I think that having vaccinated educators is going to help prevent the spread of COVID-19 in the building and in our community, so it helps protect us from becoming a hotspot," Reiser said.
Naar agreed that having the vaccine was important for opening schools, and related how having to start teaching hybrid before receiving the vaccine was stressful.
"First coming into school and not being vaccinated was nerve-wracking," Naar said. "I was very, very nervous. It took me a while to relax a little bit. I was so worried that I was going to catch COVID-19 and give it to somebody else."
Being in contact with so many students, teachers worry about their own and their families well-being as well, which has made doing their job even more difficult.
"Part of the reasons schools were shut down is not just for the safety of kids but for the safety of teachers," Naar said. "There's a lot of older teachers who are in the vulnerable population and have other health issues that make them susceptible to catching it. When I watched the news and [saw that] teachers died, it was scary. We have families, and some of us are taking care of our parents."
Even though teachers being vaccinated may lessen some spread, the end of the struggle to fully reopen schools is no where near ending, as the virus can still spread between students.
"I do think that even though teachers might be vaccinated, we need to take into consideration the vaccination level of the community when we start talking about reopening schools," Reiser said. "We might be preventing spread to a teacher, which would help stop spread from one class to another class, but if we bring back a lot of students at once, then the students might infect each other and then take that out into the community."
Kaemming mentioned that he didn't think any groups were to blame for the situation and that everybody who wants a vaccine for any reason right now is facing the same problems.
"[The problem is] it's just not fast enough," Kaemming said. "I think for all of us, it doesn't matter what sector you're in, it's been slower than we want. The organizations have systems set up to vaccinate, but they don't have doses of vaccination to offer. I think that's not a frustration only in Chelsea, that's a frustration everywhere."
After being vaccinated, Narr felt "piece of mind and like a different person." She thinks having more teachers get vaccinated will "help teachers be able to focus on the huge job that we have right now and make a huge difference in the health and strength of teachers."
"Even though I think that data says it's suggested but not imperative that teachers get the vaccine, [after getting it], I'm not scared or panicked anymore. I feel much safer, so I can focus on doing my job and really teaching and helping kids instead of panicking about myself and my family. If we [teachers] are not panicked or mad that we're here unsafely, we're going to be better teachers."
Leave a Comment
About the Contributor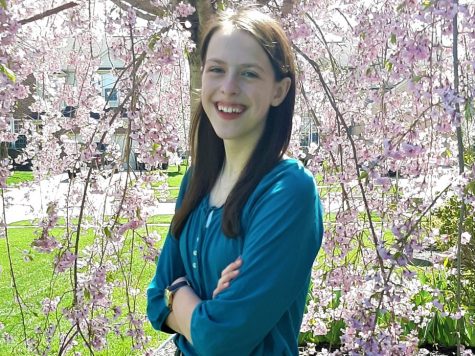 Lillian Snyder, Bleu Print Staff
Lily is a freshman at CHS, and the natural conclusion is that this is her first year writing for the Bleu Print. Besides writing, she enjoys playing the...