Artist Spotlight: Stella Moore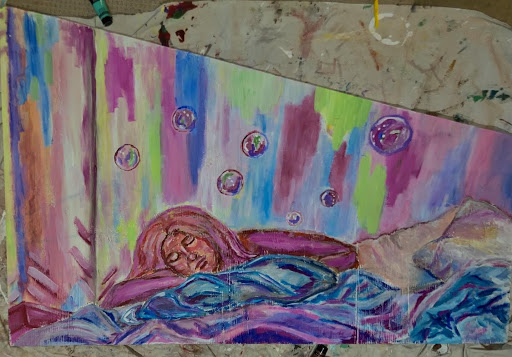 Stella Moore ('22) is a gifted painter who spends her free time painting, drawing with charcoal, knitting, hanging out with friends and doing anything artistic.
Moore has been painting since she was very little, but only this year started painting regularly. She says she learned a lot from her mother but taught herself from a lot of trial and error as painting requires a lot of attention, thought and care.
"When my mom was my age, she painted and worked with charcoal," Moore said. "When I started with charcoal she really helped me."
Though Moore has painted a variety of things, she mostly only paints people, specifically self-portraits and musicians she likes, as she likes to use herself as a reference when she's painting and finds painting landscapes and the like "boring."
"I only paint people because they are the most interesting," Moore explained. "I like to paint people with more emotions. I want to build texture and depth in my paintings." 
When Moore is painting she likes to listen to music on repeat, a wide range from Lauryn Hill and Clairo to Sunday church choir. She also sometimes watches TV in the background.
"When I paint I feel relaxed," Moore explained. "I get to just hang out in my head, and that's pretty fun."
Moore doesn't have a favorite art style because she thinks they are all really cool. Most of Moore's art includes bright colors and textures. She takes inspiration from what she sees on TikTok and the artist Klimt but loves all types of art.
"My dream is, at the very least, to do something creative for a career," Moore said. "It doesn't necessarily have to be painting, but I love being able to take time and do something creative that I'm proud of." 
Leave a Comment