New MDHHS COVID-19 Emergency Order and Its Impact on Chelsea School District
After the announcement of new statewide COVID-19 restrictions Sunday evening, Chelsea High School will remain online until at least December 8 despite plans to transition to hybrid at the start of the second trimester.
Though the new Michigan Department of Health and Human Services (MDHHS) order prohibits high schools and colleges from having in person classes, it leaves individual districts the choice to leave open schools for younger students.
"Children have already lost many months of education, but these [school settings] are indoor group settings that bring risk," MDHHS Director Robert Gordon said during Sunday's press release. "Not all school settings are the same. There are fewer outbreaks associated with the younger children most in need of in person instruction."
Last night Superintendent Dr. Helber announced that starting November 23rd, North Creek, South Meadows, and Beech Middle School students will go back to being fully virtual.
"We have been working hard to staff all positions throughout the district, and our staff have been flexible in stepping in when we have had a shortage," she wrote in an email to district families. "With that said, we do not believe this [current hybrid] model is sustainable considering local and county spikes in COVID, COVID related quarantines, and the shortage of substitute teachers."
According to https://mistartmap.info/ , Washtenaw County is currently in the highest risk level at 322 cases per million people with about 118 new cases daily and a positive test rate of 6.1 percent.
"Given all of this information, we have made the difficult decision to pause in-person learning for our Y5-8 grade students beginning on November 23 until December 8 to protect the health and safety of our students and staff…. [not starting full online until next week] will allow a week for our teachers to prepare our students for a change in instructional model," she explained.
Helber added in her email that "many traditional school services will still be available while buildings are closed." The list of those services included technology assistance (for both students and parents), food service distribution, social-emotional support (e.g. counseling, behavioral support, crisis intervention), Special Education and ELL support, Department of Health and Human Services assistance.
"Please do not hesitate to contact your school building office if you have any questions," she said. "Offices will remain safely open for the duration of the closure. We will continue to keep you updated as information becomes available."
She also said to continue to look out for more information and communication from staff members.
"Principals, teachers, and staff members will be communicating with district families as we make this transition to ensure that everyone can successfully access curriculum materials and to learn if additional support is needed," she wrote. "For those students who are using our bulldog access classrooms, you will be provided alternative resources for November 23 and 24 with an option to access the buildings beginning on November 30. Our staff will be reaching out to you."
Along with the three week pause on in-person school comes a pause on both the end of fall and start of winter high school sports.
"We are suspending organized sports for three weeks because they bring together people in settings that often involve high levels of contact and exhalation and where individuals move from outdoors to indoors, like locker rooms and [transportation] vans," MDHHS Director Gordon said.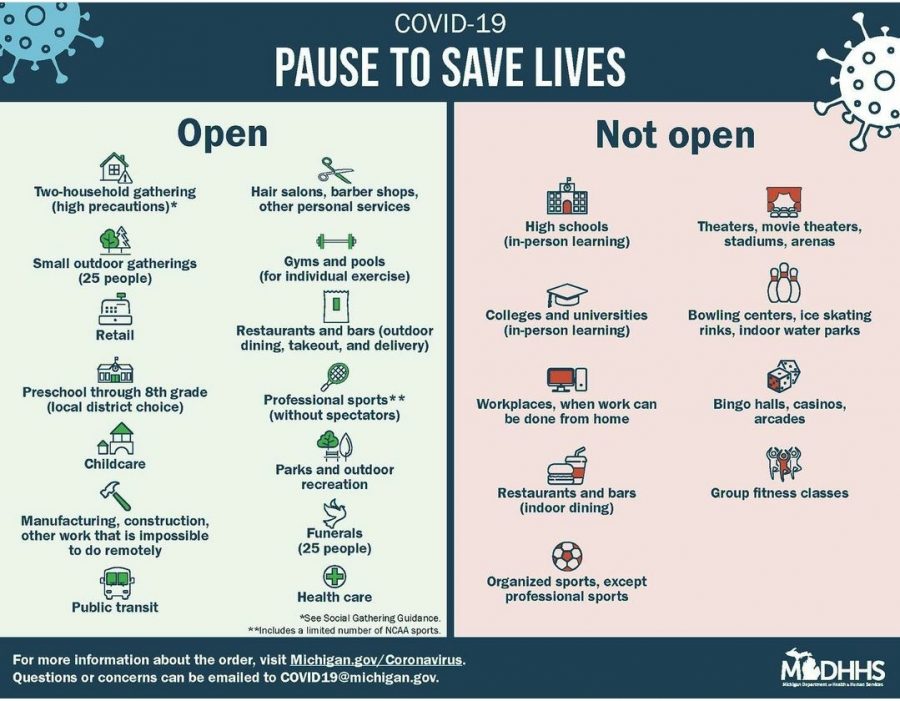 The order also closed a number of other indoor activities including dining in at restaurants and movie theaters while keeping open others like stores and hair salons at limited capacity starting tomorrow. It also requested that residents of Michigan only interact with one household over the next three weeks in order to help slow the spread of Covid-19.
"Avoid indoor gatherings if you can, and if you must, you should not be interacting with more than one household and make sure no one in either of your households is engaging in any risky behaviors otherwise you are putting all of you at risk," explained MDHHS Chief Medical Executive Dr. Joneign Khaldun during Sunday's press release.
At the end of Dr. Helber's email, she remarked on and thanked Chelsea families for the resilience they've shown throughout the course of the pandemic.
"We know that doing our part now will support the greater good," she wrote. "You [Chelsea families] have been incredible partners through this pandemic and I have no doubt we will continue to get through this together. Thank you again for your support. "
Leave a Comment
About the Contributor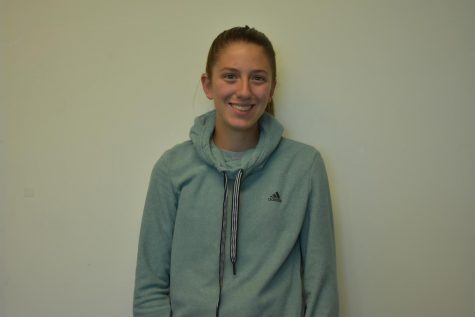 Natalie Davies, Bleu Print Staff
Natalie Davies is a senior at Chelsea High School. This is her third year with the Bleu Print. Outside of writing and editing, she enjoys running, reading,...