Quaran-teens: Student Essential Workers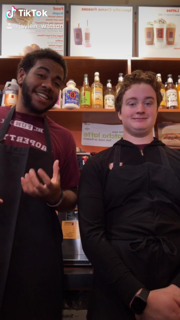 In these chaotic and changing times, there is one group of people whose communities have been counting on to keep the world spinning: essential workers. 
Despite COVID-19, many students from CHS work at a variety of local businesses. With changing times, these workers have had to be flexible and always do what they can to get their jobs done while preventing the spread of COVID-19. The precautions these employees and employers take range from wearing mandatory face masks and working behind plexiglass to eliminating self-serve options and putting in automatic sinks. Kayla Sweeney('20), who has been prepping, making pizzas, and answering phones for Cottage Inn since August 2018, explained just how much has changed since before the pandemic.
"We wear masks and gloves all the time now, we only do curbside pickup and delivery rather than helping customers in the store, and we are constantly sanitizing surfaces and washing our hands," she said. "Business has actually been up. We had close to a record night a couple of weeks ago. Not much has stayed the same."
Kelsey Weinreich('20), who started working for the Chelsea Retirement Community as a dietary aid delivering food to all the residents this March, explained some of the policies that they have implemented at CRC to help keep everyone safe.
"We have all been wearing masks and keeping our distance while at work," she said, "Also, we are not working in the dining room and taking the food to the residents instead so that they can stay away from other people and avoid getting sick."
Jaylen Watson('20), has been working at Biggby since late August and added that even though the menu and many of the customers are the same, the overall experience for customers and workers is still very different.
"At first it was very hard to recognize all the regulars with their mask on since the bulk of their face was covered," Jaylen said. "Plus, nothing is self-serve anymore. That was a big change for us baristas and the customers."
Though many of the businesses student employees work for are shortening store hours, student employees, like Jaylen and Kayla, have been using the time off of school to work more hours. Kayla specifically mentioned that she is working about twice as much as she was during school, and explained what impact working more during this time has had on her.
"I was working 6-10 hours, but now I work about 20," Kayla explained. "I am saving money for college, so these hours have been really nice for me. I've also gotten a lot closer with my coworkers, so seeing them every time I go in is nice. I have definitely had some really hard days at work, but being short-staffed and busier has definitely influenced my work ethic for the better."
These workers have risked exposure to COVID-19 to serve us food and keep the customers content. Jaylen explained that one-way customers have shown extra appreciation toward him and his coworkers for going the extra mile these past few months is through tips.
"When the pandemic first started, people were tipping like crazy and we were so thankful that we were open," he said. "One time we were super busy and this lady tipped me and a co-worker $100," Jaylen said. "On another day that same week, a biker guy came in and tipped us $70."
All three of the featured essential workers were excited to talk about their jobs and seemed very happy with the work they are doing.
"Honestly working at Biggby is fun all the time," Jaylen said. "I like working and have asked for more hours because it helps pass time and keeps me busy and out of the house."
Even though these students are working during challenging times, they still manage to keep a smile on their faces, even if it can't be seen from behind the mask.