Chelsea Students Win Spoken Essay Contest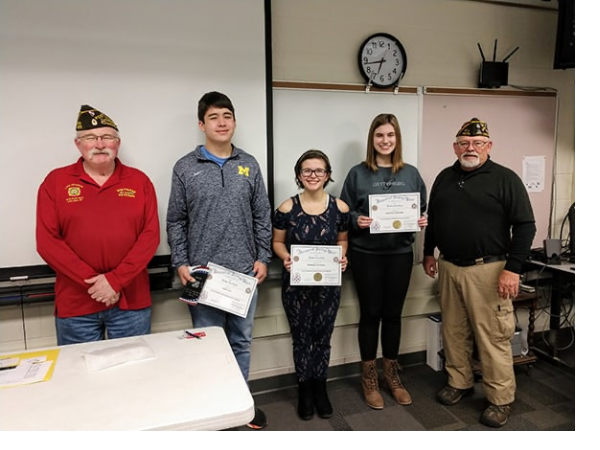 Right now in the United States of America, it is very easy to say that people are living in a state of political turmoil. There always seems to be something new for people to fight over, and too little that brings people together. However, in a spoken essay contest issued by the Veterans of Foreign Wars (VFW), students were challenged to answer a controversial question: "What makes America great?"
Chelsea students responded to the prompt, and three CHS students wrote powerful enough essays to win the first, second, and third places in our district. Each student had their own reasons for participating, as well as personal interpretations of the question.
"I felt inspired to write about the prompt due to the 'bad vibes' surrounding the phrase 'make America great,'" third place winner Bella Andreski ('21) said. "I wanted to change that. I interpreted it as what makes America not only great, but what makes it stand out as a nation of the people. So, I wrote about the negatives of America first, but then moved on to how great America is because of the equality and unique opportunities offered here." 
The VFW puts on this contest with the intent to maintain patriotism in teens. With that goal in mind, students are offered the incentive of a chance to earn scholarships and money for their participation. However, at its core, the program is really trying to inspire young adults to think deeply about America and how they can help make it better.
 "One of the things that came to mind is that every time you have the chance to share your opinion with others and participate in something you don't normally do. Don't take for granted the opportunities that come your way and be thankful for the things that empower you to keep moving forward,"second place contest winner Madison Brodeur ('20) said.
This opinion was also reflected in Brodeur's essay; she wrote about freedom of speech in America and our ability to speak out using our voices to take a stand on the things that matter to us. 
She was not the only one thinking about the importance of that specific freedom.
"I interpreted [the prompt] as asking about our morals as a nation," the first place speaker Dan Lin ('20) said. "I wrote about how our free speech is the best catalyst for the improvement and evolution of our ideas as a nation."
Lin, Andreski, and Brodeur all expressed great pride in their victories, and mentioned their feelings of thankfulness towards the VFW for providing such an opportunity, as well as specific regards to the people working in the group. Additionally, Lin hopes that there will be more entries next year, and that students will continue to participate in this contest for many years to come.