Bulldog of the Week: Isabel Gurganus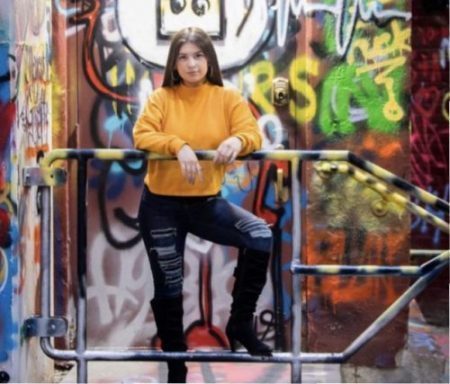 Isabel Gurganus ('20), an early graduating senior and aspiring makeup artist, was gracious enough to give me a look into her life such as her after school plans and her reflections on the high school from the four years she's attended. 
"School has been pretty great," she said. "It's nice to know it's senior year and we're almost out! This year has been pretty smooth, the classes are decent, and the teachers are a big help."
She explained her excitement for her future after high school, when she hopes to further pursue her artistic passions.
"After I graduate, I'll be done with cosmetology school," she said. "So I would love to take my test and get my license! After that, I want to focus more on the makeup part to becoming a makeup artist." 
She pondered whether or not she wanted to make her passion for cosmetology into a full-time job or a side project. Regardless, she's very confident that she will continue with it and confident in her own skills. 
"I've been really thinking about it lately," she said. "I'm still not sure if I want to use my license as a side job and do weddings and dances, or if I want to get more into it and try to work for magazines and photoshoots. I really see myself succeeding in this industry since it's something I'm very passionate about." 
She looked back on the high school with a mixed lens, mentioning how the lack of diversity gave the school a "bland taste," but followed up with how the immense support provided by its staff members was and is astonishing. 
"What I'll remember is how different I am from this school," she said. "We aren't really diverse and, from growing up somewhere that is, it just kinda makes the school boring. A lot of people act and look the same."
Despite some of Chelsea's flaws, she's found a lot of help recently from teachers and staff.
"I'm glad CHS offers a lot of support," she said. "When you have a problem, it feels like they always have someone for you to talk to or have a place for you to cool down. For graduation, I'm very lucky. Because of my current situation, the school is letting me finish two of my classes online to graduate earlier. It's a big help because of what's been going on in my personal life. I'm glad the school is so understanding and are  willing to help me through this process."
After school, she's excited to go somewhere she can get, in her view, more life experience, and a better outlet for her work.
"I'm hopefully moving to Detroit. I'm happy to graduate early, but it can be a little annoying that people keep getting that confused with me dropping out. It's honestly a blessing and gives me room for me to continue my career as a makeup artist."