Jacqueline Taylor Nominated for 'I Am Sport' Award
Senior student athlete Jacqueline Taylor was nominated for the Detroit Free Press I Am Sport Award and has been chosen as one of the top 20 nominees.
This award is designed to honor high school student athletes from all around Michigan who are dedicated to giving back to the youth in their communities.
Voting is open online at The Detroit Free Press Website, and people can vote once everyday until March 5. The three nominees with the most votes will be invited to attend the Detroit Free Press Sports Awards at the Fillmore in Detroit to find out who wins. The winner will give a speech in front of the crowd.
Jacqueline is a varsity runner for both track and cross country here at CHS. She has been a runner since fifth grade.
"Running has played a very important role throughout my life, especially in high school," Jacqueline said. "It's kind of stress release for me whenever I'm having a rough time or am stressed out, I'll go on a run. It clears my head…It's made me I think a lot mentally tougher because I've had to like push through a lot of things. And running is not a walk in the park. So, it's definitely taught me grit."
She also started the Why You Matter Campaign and is one of the leaders in charge of the Mini-VictorThon.
"[The Why You Matter Campaign] is kind of cool because that gives back to the youth of the school directly, but the the Mini-VictorThon is probably my top thing right now," she said. "I'm running the eight hour dance marathon for pediatric rehabilitation for patients at Mots Children's Hospital of the University of Michigan. That's really cool because going back to a local pediatric patients. I'm really pumped about that."
Jacqueline explicated that through being involved in student council, sports, and giving back to the community, she really enjoys the aspect of meeting new people.
"I think [my biggest passion is] helping people and making new relationships with others," Jacqueline said. "I think that's what I've gained the most from like all the things I'm involved in in school, really connecting with a broad group of students in the high school that I probably wouldn't have connected with otherwise."
Jacqueline explained her exhilaration for giving back and how she is really excited about giving the money raised from the Mini-VictorThon to the kids at Motts Children's Hospital undergoing pediatric rehabilitation.
"Contributing to the community makes me feel happy," she said. "I feel like I'm a people pleaser. I definitely would say that's one of my top characteristics. I'm like really pumped to like just show off the check [of money raised from the Mini- VictorThon], particularity for these kids, because I think they really deserve it will definitely benefit them. [Giving back] just makes you feel good, warm, and fuzzy."
One role model Jacqueline has is her grandpa, Norm Rodenkirch. She says he is the type of guy to go to every sporting event, even when she is not playing.
"He is very selfless and dedicated to everyone around him and he's not afraid to drop the hat to do anything," Jacqueline remarked.
Peggy Smith, a sophomore who became friends with Jacqueline through their church youth group and working together on Student Council, expound her excitement at Jacqueline's nomination for this state level award.
"I was super proud of her [when I found out]," Peggy said. "I think that she really deserves it because she's been nominated for like a ton of local things, but I feel like being recognized on the state level and speaking at the Fillmore… that's insane! I think she would be great and I really hope she gets it because it's definitely an honor. She's very happy about it so I am happy for her."

Peggy also talked about exactly why she thinks Jaqueline is a good fit to win this award.
"She's an incredible runner," Peggy conveyed. "I've never seen someone like running in general but she loves it. She gets very excited when she's about to go on a run. And then she'll tell us how it went. And she just loves it… She's so unique and special in that way that she was able to do as much as she could in high school with Why You Matter and Student Council, and just everything she ran and her overall attitude towards everyone at school. She's just so awesome in that way."
Because Jacqueline is one of 20 candidates from around Michigan,she will need many votes to be able to represent CHS in the Detroit Free Press Sports Awards. Anyone can vote once a day until March 5 using the following link http://freep.secondstreetapp.com/I-AM-SPORT-Award-2019/gallery/
"I feel like Jacqueline is just so nice and sweet all time," Peggy said. "I think [my favorite thing about her] is just how caring she is. I know that she would drop anything in an instant, you know, to like, be with me or hang out with me. And I would do the same for her. And so I feel like just how compassionate she is. And I think that's why she should win this award."
About the Writer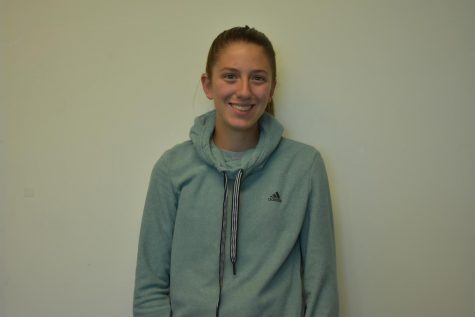 Natalie Davies, Bleu Print Staff
Natalie Davies is a senior at Chelsea High School. This is her third year with the Bleu Print. Outside of writing and editing, she enjoys running, reading,...