Faculty Spotlight: Dawn Putnam, A Passionate and Fun-Loving Teacher
Dawn Putnam is an English teacher who's been teaching kids for 23 years. She is the chair of the English department, and even after all the time she's worked as a teacher, her eyes light up when talking about her job.  
"I love those days when you're talking about something that people haven't thought about before and you can totally see it click," Mrs. Putnam  said. "You see that look on their face, and you're so excited."
She's loved teaching and English since she was young and growing up a Mennonite in a small town in Michigan, and that background guided her towards teaching.
"Some of the people I most respected were my teachers," she said. "I grew up in a really small town in the 80s in the thumb [of the state], so there weren't a lot of professional people… I really liked learning, and I really liked school, and I really wanted to keep doing the stuff I was doing."
That's not to say Mrs. Putnam hasn't changed over her 23 years of teaching experience. Her love for learning and teaching has evolved over time to include parts that it didn't before.
"I think when I originally went into education it was more about doing stuff outside of school," she admitted. "It was less about being a classroom teacher then… and now, weirdly, it's not about that at all."
Being a "classroom teacher" does have its drawbacks, however.
"I hate grading so much," she said. "Especially papers… because a lot of times they're really personal, even if you're not writing about something personal… I can tell when people worked really hard on it and they're not getting something, and they feel like they put themselves out there and I'm telling them it's not good enough, and it's heartbreaking."
That's why, while grading and after school activities are a large part of teaching, it's the students themselves that are the most important. Many students in her class notice this effort Mrs. Putnam puts into her teaching.
"She's really energetic all the time, but not too much," said Abbie Dobos, a student currently in Mrs. Putnam's Honors English 10 class. "It's a fun class."
Mackenna Lamb, another student in the class, describes Mrs. Putnam's teaching style similarly. "I'd say it's pretty hands-on because you talk in groups and talk with the whole class."
When asked to describe her teaching style, Mrs. Putnam told Bleu Print, "I don't get super personally involved with my students… but I feel like kids know I care about them," she said. "My main focus is making sure not just that you learn English skills, but that you learn things that will make you successful people, while hopefully showing that I care about you."
About the Writer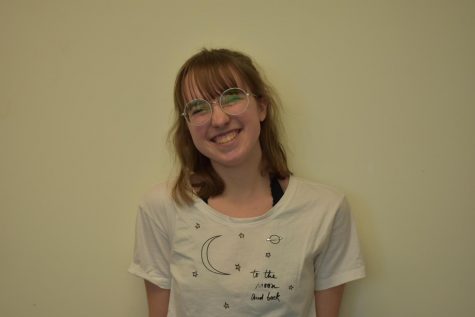 Katie Moore, Bleu Print Staff
Katie Moore is a sophomore and in her first year at Bleu Print. Apart from the Bleu Print, she is also involved in the CHS Theatre Guild. When not doing...