A Freshman's Take on Homecoming Changes
As much of CHS knows, Homecoming is a week away, and changes have been made. As a small town, altering a longstanding tradition in Chelsea is either going to make people happy, or really upset. With the adoption of the Chelsea Excellence Award we've seen both. In previous years, a Homecoming Queen was crowned, but due to the way this "honor" has been misused, our Student Council has opted to change all of that. Now, rather than being a glorified popularity contest that pits girls against one another, we have the Chelsea Excellence Award. An impressive move on the part of Student Council. We still get to enjoy the pomp and circumstance of putting people we feel are worthy in the spotlight, without as much of the potential drama.
A lot of people are worried that changing this award will change everything about CHS' Homecoming celebration. However, despite the new award in place, very few aspects of Homecoming have been affected. We still have a parade, spirit week, and pep rally, and the big football game isn't going anywhere soon. Winners and nominees of the award will still be featured at the game and in the parade, just like Homecoming Queens and Princesses of the past. The only noticeable difference is in the award itself. Now, the award is gender neutral and no one will be receiving any shiny crowns. Though fear not bling-lovers, winners will be receiving medals, and the winning senior will receive a plaque for both the school and for themselves. For many, these slight alterations are simply improving a beloved tradition.
From the perspective of a female student here at CHS, having an award that only focuses on the superficial aspects of women is cruel, and more than a little backwards. As our Student Council President, Drew Vanderspool, mentioned in his letter addressing the change, the Council didn't want the school to be associated with the accompanying stereotypes of crowning a Homecoming Queen. No longer is the student body to be held back by perceived notions of beauty and popularity. The Homecoming Queen award was blatantly sexist. Why should we, as a student body, get to decide someone's self-worth for them? That isn't, under any circumstances, okay. Especially, when this "honor" is judging girls based on looks and popularity. Just because someone doesn't fit societal standards of beauty doesn't mean they aren't a wonderful, compelling person. Not being conventionally attractive doesn't make it okay to mock a fellow student. The best thing this award does is take away the possibility of someone being honored and revered for something as silly as looks.
Another issue with the previous Homecoming tradition was the possibility of students being nominated as jokes, which has been an issue previously. Now, anyone nominated will be recognized for positive aspects of personality, success in extracurriculars or academics, or just general helpfulness in our community. Unlike the award of Homecoming Queen, which was used to highlight perceived flaws in girls because of societal misconceptions, it is hard to use something against people when they can add it to their college and job applications. It wasn't only joke nominations to be thought about, some girls were just plain uncomfortable about being nominated, especially when you realize the Homecoming Queen award is just glorified objectification of women. No one is really going to be uncomfortable when being called out for how awesome they are, in the things that really matter, and if a student is uncomfortable with the attention, there is an opt out option available for the Chelsea Excellence Award.
I really do believe that we should embrace the change. Unlike the Homecoming Queen award, this isn't going to hurt anyone in an obvious way. No more joke nominations, whose only intentions are to make someone feel bad for not living up to a stereotype. Instead, we have a rare opportunity to recognize and reward our peers for making our community a better place, and if we don't seize it, we'll have only ourselves to blame.
View Comments (1)
About the Contributor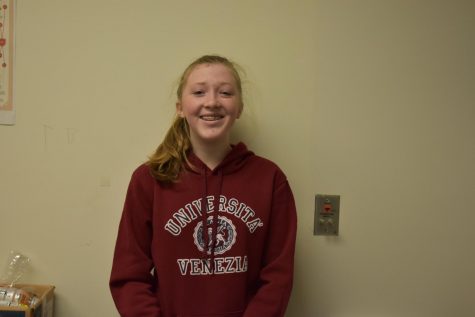 Corynne Daniel, School News Editor
Corynne is a sophomore who is passionate about literally everything, which often gets her into trouble. She is always ready to work and covered in dog...