Winners All Around CHS
There are a number of talented artists here at Chelsea High School, and this year several individuals were recognized for their work through various awards. There were man national winners of the Scholastic Awards right here in Chelsea. These winners have shown incredible artistic talent throughout their time with the CHS Art Department. It is quite an impressive thing that so many talented students were honored at such a high caliber.
The winners are as follows:
Silver Medal for Photography: Julia van Reesema and Liliana Imboden.  
Julia took a beautiful black and white photography of her mother. She initially took this picture for her photography class, and never would have thought that it would win a Silver Medal. Similarly, Lili took a picture for Photography Two last spring–fun side-note: I'm in it. Many people were intrigued by the photo and fell in love with its uniqueness.
Silver Medal for Painting: Olivia Maldonado–who actually has two of her paintings being recognized for this award. Depicted in these are Mr. Zainea and one of Maldonado's friends from Ann Arbor.
Gold Medal: Olivia Maldonado. She won this category with a stunning oil painting of junior Olivia Haber.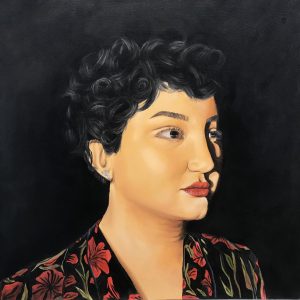 As many of already know, Olivia has a reputation for being one of the best painters that have walked the halls at Chelsea, and has gone on to really bring color to CHS through her murals and other work. Not only so, but Olivia has received a tremendous scholarship for art at the School of the Art Institute of Chicago, and is also being commissioned to paint a mural in Ann Arbor.
Congratulations to all of the honored ladies! The community is certainly proud to hold such great talent.