WINTER CARNIVAL POINTS UPDATE
Today's Spirit Points:
USA Day: Seniors earned 75 points; Sophomores 100; Freshman 50
Lunchtime Games: Seniors earned 30 points; Juniors 75; Sophomores 100; Freshmen 50
How does my class earn spirit points?
According to CHS Student Council, points are awarded based on class performances in activities throughout the week. The number of points awarded for each activity is provided below. Staff will only accumulate points during Friday's pep rally.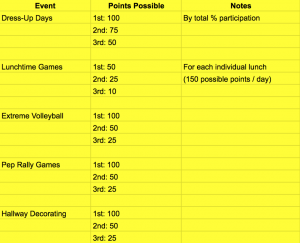 Leave a Comment