Class of 2025: Student Council Campaign Season Begins!
With student council elections coming soon, the class of 2025 has been preparing their campaigns. Student council executive elections are being held May first through the fifth and general elections follow two weeks later. The stakes, for these soon to be Juniors, are high as they run for re-elections and new office positions. The current sophomore class is unique in that they have already broken records within the school in just two short years. This past homecoming was the first time an underclassman class won spirit week in over 26 years. 
"I think we've done a good job organizing events and decorating and leading our classes' success during spirit weeks," current representative and Secretary Lauren Thompson ('25) said. "I think it was a really good effort from everyone in our class and I think we should do it again next year." 
Student council has put on many events throughout the year with the intent to fundraise for probable causes. The class of 2025 has adopted new methods of fundraising such as movie nights, and have helped implement "no hassle" fundraising within our school. "No hassle" fundraising means community members, parents, and family friends can support CHS all online! Through "no hassle" fundraising alone, the student body has raised over $1000 for causes such as the St. Jude Foundation, during their Mini-Victorthon event.
"The holiday movie night, which started out as an idea for just our class and then grew into something that our class could sponsor for the entire building, was a very fun and unifying event," current class President Jordan Nelson ('25) said. "This year we've raised, I believe, just over $8,000 [for class funds] accounting for the no hassle fundraiser and concessions on the movie night." 
So what will happen to our class funds? A current idea that has been in the works may include a senior trip or event. Due to the pandemic, many grades were unable to travel to Washington DC after raising money to do so. A class trip since then has still remained unfulfilled.
"We've decided to save our money so that we could have a Senior event, much like last year's senior lock in," Nelson said. "We want to be able to include more food or expensive elements like bouncy houses and rentable items. So by holding [funds] off another year and a half, we can ensure that by the time we're seniors, we have a good send off."
When it comes to student input, in regards to council decisions, student councils' role is to bridge the gap between students and administration. Their goal is to represent and serve, similar to an actual government. 
"I would say in general we've taken more student input on our theme weeks," Nelson commented. "Aside from freshmen having the last pick in sub themes, the main building themes have proved to really unite the class around something that everyone thinks is good." 
While some feel that student input has been included in council decisions, others feel that input could become more of a focus. Running for re-election of her job as secretary and representative, Thompson has helped decorate for dances, facilitated floats, and voiced student ideas to the council. She values student input and feels that it could be emphasized and strengthened within the council. 
"I think it's really important to get input from people in our class and I don't think it happens enough on the student council," Thompson said. "I feel like the student council is supposed to represent what the people in the class want, not what the people in the student council want. I feel like that's something we need to work towards more, because right now it's not like that."
Similarly, current Vice President Eric Cameron ('25), wants to strengthen communication between students and the student council. He is running for the student council school wide president position. If elected, Cameron would lead council meetings, work closely with administration, and represent the student council as a whole. 
"I want to include more students in the decision making process," Camoron said. "I feel like the average student doesn't really know what we do, and that you can actually make a proposal to the council."
Cameron plans on tackling this problem head on by looking for efficient and effective ways to help students.
"I want there to be a way that students can propose ideas and even potentially anonymously," Cameron said. "It can be kind of scary if you go up there in front of 40 people who you probably don't know and propose an idea. I want to make sure that students know that they can propose ideas." 
Running for re-election of his Class President role, Nelson plans to expand on last year's tactics while implementing new ideas. His past campaign promised to fundraise $2,500 for the class account, an end of year "spring fling," taking input from students in regards to spirit weeks, and offer class merch. While some things were unable to be completed, Nelson plans to move forward with what he can accomplish.
"My plan to campaign is pretty similar to last time, standard posters and positive messaging, focusing on the characteristics of not only myself but our council," Nelson said. "Some of my plans, which I hope to convey, include not only trying to get more proposals put through the council, but also beautification projects like repainting of the student parking lot–which I know is a big issue as you cannot see the lines."
Running against Nelson for presidency is Sophomore Gavin Cagney. Cagney hasn't always been a bulldog, but is excited to be involved in the election process here at CHS.
"I've actually only been here for about a year and a quarter at this point," Cagney said. "There's a lot more opportunities at Chelsea compared to my other school."
He has been eager to involve himself within the school and community. Cagney is a part of the CHS music program where he sings in the choir, and plays low brass in the band. In addition to singing and band, Cagney competes in track and field and is on the water polo team. He has taken on some unique roles within the sports program as well during his off season. 
"I've managed the film and monitor systems during the winter season, which is the only season I don't play a sport." 
During school he enjoys helping his peers when it comes to advanced courses such as AP World, Honors English, and Chemistry. 
"I work great with peers and I love to help others," Cagney said. "Whether it be tutoring, quizzing them, or working with them to increase their skills, I am able to increase my own skills not just in the topics that we're studying, but also in peer to peer relationships."
Cagney's campaign focuses on helping make the school an overall better learning space while implementing simple fixes to ensure students' comfort.   
"I feel like there's a lot of amenities that students don't have in school," Cagney said. "Starting with the bathrooms. I think that there should be tampons in girls bathrooms. I'm angered a lot about how there aren't soap dispensers in certain male bathrooms. A lot of classrooms don't actually have tissues for students to blow their noses, and I think that's a big problem."
He also wants to brainstorm new ways in which student council events, such as school dances, fundraisers, and activities, can be more enjoyable for everyone involved. Cagney values student reaction and participation and wants to help create popular school wide events.
"I think that a lot of people find dances and other events, I guess 'uncool' is the best word for it—people don't want to go to them," Cagney said. "I feel like we can change these events to be things that people would actually want to go to, instead of a few people."
As a student council member, students should feel that they can come to you with any concerns or questions they may have. Cagney feels that he is someone who will embody this skill. 
"I pride myself on being very approachable and being taught to tell me any criticisms or any graces that I have," Cagney said. "Actions speak louder than words. I think that if we move enough pebbles, we can move a mountain. I'm not saying that quality is better than quantity, but fixing a lot of things is a lot better in the end of it all than fixing just one thing."
The campaigns of each member, and potential new members, present new ideas, values, and sometimes tension. Some feel that the elections have become too competitive and have moved away from being about helping your peers.  
"I've noticed that our class is a lot more competitive than all the other classes," Thompson said. "I know it's a good thing to have competition between people who like to get a true representation of people from the class and their opinions. But I feel like sometimes it gets too competitive." 
Former Class President Jack Orlandi ('25) had a positive experience during the election process. He feels that campaigning went smoothly and that his competitors were just other classmates.
"It was very friendly, just putting up posters, trying to recruit people to vote for you, I really didn't see them as my competitors," Orlandi said. 
Cagney expressed a similar mentality. He explained that whether he wins the presidency or not, he still plans on campaigning to be a part of the student council as a representative. 
"I respect the other candidate going into this, I respect him greatly," Cagney said. "I think he has great ideas. There are no real losers in this, I hope people realize that. I'm not going to throw a tantrum and I'm sure he wouldn't either because we both want to help the class as a whole. If one of us loses, we are still going to gain things."
Despite a potentially competitive environment, the class of 2025 continues to grow and change. 
"When I first joined, I didn't really know many people," Cameron said. "I didn't have an idea of what it was like and now I feel much more passionate about it and am excited to show up and try and bring new ideas."
This year has been a success and student council members are proud of the work they have done. However this election turns out for the class of 2025, it's important to remember the work that current members have been able to do. 
"[This year] confidence in our decisions, excellent communication, and the respect for each other meant we had immeasurable support along the way," Nelson said. "I think that we are setting the precedent not only for the upcoming sophomores, but for several classes to come after us."
Leave a Comment
About the Contributor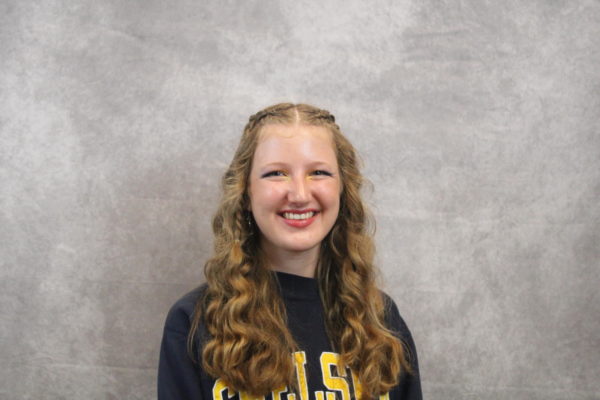 Sonja Schemahorn, Online Editor
Sonja is a junior and this is her third year writing for the Bleu Print. She is dedicated to her violin and plays in the Chelsea Orchestra program as well...