Changing the "Chelsea Way": Student Section Behavior
After negative behavior at a boys basketball game against Pinckney, Chelsea High School administration sent out an email reminding parents and students of the student section guidelines and rules. According to the email sent by administrators, students were heard using profane language, berating game officials, and taunting opponents. 
In this email, students were also reminded of the SEC spectator guidelines. Interim Athletic Director Wayne Welton explained that the spectator guidelines have been in place since the fall, and students from all districts within the SEC are expected to be held to these same standards.
"We're not going to swear and use inappropriate language," Welton said. " We're not going to abuse our opponents personally. We're not going to berate game officials. We just want to do what's right."
Although these guidelines have been in place, many students argue that the administration is overreacting and that all of the student section's actions are to be expected at a game. 
"I feel like you're always gonna have the student section going after the other team," Drake Booker ('24) said. "But I don't really think we go too far." 
Chelsea's student sections have a history of negative behavior. Last year, the student section was even banned from hockey games because of similar behavior.
"I think the student section has been an ongoing challenge for years," Welton said. 
Many of the student section incidents have occurred at basketball games, however, the student section can also have positive effects on games. Varsity basketball player Drew Blanton ('25) explained how the student section can add to the energy of games. 
"I don't think that the student sections or students should be banned or removed from games," Blanton said. "I think they add to the energy of the game and I think taking that away would be a mistake." 
Others argue that student section behavior has always been like this so there is no real reason to change anything. 
"I feel like as long as I've been going here, there's always like: 'yeah support your team, support Chelsea,'" Booker said. "But you also got to like, give it to the other team."
The administration's main goal for Chelsea's student section going forward is for them to behave and act in a positive manner. 
"We want to be proud we're from Chelsea," Welton concluded. "We want to represent Chelsea in the highest way possible. We want to cheer hard. We want to make it hard for other opponents to play here, but there's a right way to do that."
Leave a Comment
About the Contributor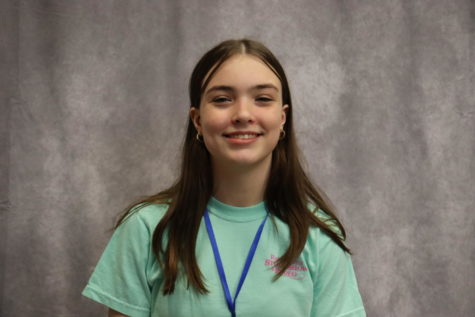 Sydney Barston
Sydney is a sophomore at CHS and this is her first year writing for the BleuPrint. Outside of writing she enjoys playing water polo, swimming, and listening...