Diving Into the Future: Mitchell Brown
Diving since the age of four, junior Mitchell Brown has already proved himself to be a rising star. Just this year, he committed to the University of Virginia's Men's Diving Program.
"My dad was a diver and that's primarily why I started, but I only did the summer diving program," Brown said. "I didn't dive competitively until I was about eleven, but I've been diving since I was four so I didn't really dive as I do now."
Since he started diving, Brown knew he had the skill to continue diving at the collegiate level. Starting a recruiting profile was a must-have to be able to reach his goal and increase his chances of being recruited. 
"I feel like college has always been a goal of mine," Brown said. "However, the recruiting process has a lot of ups and downs. Sometimes I [wasn't sure] if I wanted to dive in college, sometimes I [was]. Primarily, I've wanted to dive in college my whole life, I just didn't know at what level. I guess getting into that recruiting process early and just starting out early was super beneficial as an athlete." 
Committing to the University of Virginia was almost fate for Brown. After attending a recruiting camp last summer, Brown received an offer from the new coach at UVA.
"I went to a camp in Texas and the coach was there, but he wasn't the coach for UVA yet," Brown said. "He was at some other small school and then I got a text like two weeks later and it was like 'I just took over the position at UVA like I'd love for you to come out.' I was like 'wow, this is amazing.'" 
After visiting the university's campus, Brown knew that the opportunities and community at Virginia were exactly what he wanted for his college career. 
"UVA is the number four public school in America which is really important," Brown said. "Academics is one of the most important things. It's almost right up there with diving, probably way more important than diving. And it's such a beautiful campus, I kind of just felt at home. It's such a good opportunity."
Although Brown has been diving successfully for many years, that doesn't mean he still doesn't put pressure on himself. Especially being from a small town, the pressure can feel a lot more focused and intense. 
"I feel like I put a lot of pressure on myself because sometimes a lot of people expect me to be my best," Brown said. "In a small atmosphere like Chelsea High School meets or like summer diving, I feel like everyone there just knows what I can do."
Despite how tense it may feel sometimes, Brown doesn't let the pressure get in his way. The motivation and love for his sport and the support system around him, allow Brown to continue his success in diving.
"I've been doing this for almost twelve–thirteen years," Brown said. "It motivates me to keep going because I like diving, I just think it's super fun. Having a future and a history like I have for so long in the sport, it's so easy to have motivation."
Leave a Comment
About the Contributor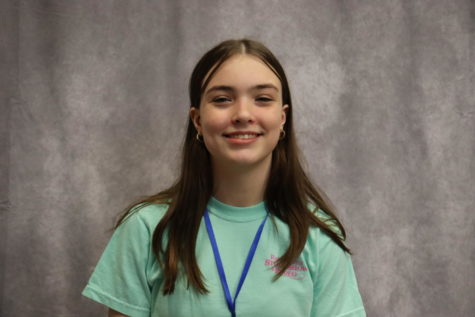 Sydney Barston
Sydney is a sophomore at CHS and this is her first year writing for the BleuPrint. Outside of writing she enjoys playing water polo, swimming, and listening...