Owen Critchfield: Swimming into Success
Early mornings, late nights, stress, and exhaustion. Senior Owen Chritchfield, captain of the CHS varsity swim & dive team, has been in the pool as a competitive swimmer since he was nine years old, and ever since then, swimming has been an important part of his life. 
Even though swimming has been, and still is, a big part of Critchfield's life, he is not planning on a college career in swim and dive. Instead, he's choosing to study either economics or international relations though he hasn't yet decided on what school to attend. 
"I'm split between U of M and MSU right now," Critchfield said. 
Sports can easily be too competitive and that sometimes causes them to lose their fun. Despite this, Critchfield believes that the Chelsea High School sports community has a good mix of both competition and fun.
"Chelsea has a good understanding of what sports are about," Critchfield said. "It's never too stressful, but also never careless."
Like many winter sports, the swim team has had an incredible season with loads of success. For example, the team is close to the state cut.
Traditions and team rituals within the team increase the team spirit and makes it more than just a team. Due to Critchfield's long stay with the team, these fun and unusual traditions are a vital part of what makes him feel like part of a team.
"We sometimes get doughnuts, like as a group," Critchfield said. "We also got this golden bone as our mascot that we use in our cheer. This year we bleached our hair."
What makes the team special to Critchfield is how the team works together. The team always leaves practice with a smile on their face and they cheer for each other's victories and don't hold each other back during their losses.
"It's a good group of guys," Critchfield said. "I've never had a dull practice. There is always something going on."
Though swimming and diving are counted as a team sport, most of the work is done individually. 
"There's a lot of individualism in it, but there's also a lot of [teamwork]," Critchfield said. "It's very important to understand that you are working with a team."
Critchfield has always had swimming and diving as his main sport, but throughout his high school years, he has tried other sports such as water polo and soccer. 
"I tried water polo this last year and this year and I loved it," Critchfield said. "I wish I would have done it all four years."
While Critchfield has branched out and tried new things, he has always been a part of the swim team. Over the years, the team has grown closer and stronger together, creating a close-knit group.
"For me, it's not just a sport," Critchfield said. "It's a community." 
Leave a Comment
About the Contributor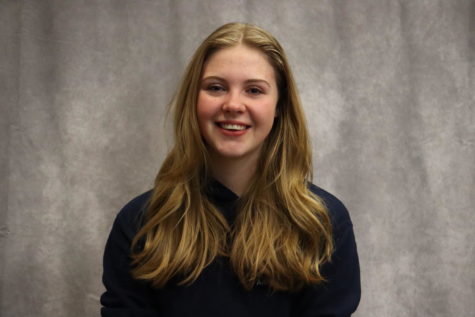 Emma Andersson
Emma is a senior exchange student from Sweden and this is her first year writing for the BluePrint. Outside of writing stories for the sports department,...