Mini-Victor Thon has Successful Return
The Mini-Victorthon is a partnership with Chelsea High School and the Dance Marathon of the University of Michigan. The fundraiser helps raise money for C.S. Mott Children's Hospital to help kids get healthy.
"Students work for months ahead of the event to get donations from local businesses and families to raise funds," student council adviser Melissa Helberg said. "The event itself also asks participants to raise or donate money in order to attend. The University of Michigan's Victor-thon is a 24-hour event. We have the same overall goal of student & community involvement and fundraising, but our event is abbreviated compared to theirs."
The Mini-Victorthon consists of many activities all with different themes. Students participated in games, dancing, and different competitions. Food was donated by Cottage Inn, Jet's Pizza, and Barbecue 52 letting participants enjoy the food as well as the dancing.
"We started with Zumba hour, led by Ms. Andrea Franco," student council adviser Adam Schilt said. "We then had games set up in the gym for 'Gym Class Hour' and 'Beach Hour,' including volleyball, badminton, basketball, and cornhole. We had ping pong set up in the commons along with a live DJ. We hosted ping pong and cornhole tournaments for prizes provided by local businesses, and Chelsea's own Wild Childz performed."
Student Council Members work months in advance to get donations from local businesses and families to raise funds. Members meet as committees for the first time at the end of March and break into committee work during a portion of their weekly student council meeting during the month of April.
"We [have] four committees for the event: the Event Planning Committee, the Community Outreach Committee, the Setup Committee, and the Recruitment Committee," Schilt said. "It's a bunch of logistics like figuring out who from the community will donate, how to get people signed up, planning the order of events, gathering supplies, etc."
Student Council Member Kate Gaiser ('22) was a part of the fundraising side of things and spoke with many businesses asking them to support the cause.
"It [takes] a lot of outside work, actually visiting the businesses and giving them information about the cause," Gaiser said. "Preparation was pretty hectic. With the last minute Winter Carnival, the start time of the planning period was delayed."
Members Jack Orlandi ('25) and Lauren Thompson ('25) were a part of the set up and take down committee. The set up and take down committee is in charge of setting up things at the event such as the games, tables, and posters then taking them all down after the dance ends.
"Preparation involved decorating a banner, setting up the DJ and stage for the band, and getting volunteers to bring yard games such as cornhole," Orlandi said. " Mr. Schilt and I also brought out ping pong tables. I wasn't a part of fundraising, but from what I could tell, they did a great job hitting almost all businesses on Main Street and getting very generous donations."
Member Jordan Nelson ('25) was a part of the Event Committee and helped plan most of the night's activities.
"My job entailed planning, with the other committee members, every aspect of the event; chairs and tables, songs, games, theme hours, to name a few," Nelson said.
To advertise for the event members reached students in multiple ways including social media.
"We used our Student Council social media accounts, word of mouth, fliers, school announcements, and an end-of-school-day countdown over our school's intercom," Helberg said.
It was unclear at the beginning of the year if the Mini-VictorThon could still be hosted because of COVID protocols. However, once it became more clear that the event could happen, members only had about half the time to plan.
"Originally, we were unsure if we would be able to have an indoor event so we were in the process of planning an outdoor walk-a-thon when the COVID guidelines changed which meant that we had more flexibility in what type of event we had," Thompson said. "It took a long time to decide what the event was going to look like, but eventually we decided on the four hour fundraiser that we ended up putting on."
Deciding on themes also required some discussion, but in the end, the event was a major success, allowing students to have fun with their friends as well as donate to an amazing cause.
"One big challenge was deciding on what to make the theme hours, being that we only had three that would make it through due to the event being much shorter than MVT 2019," Nelson said. "I would say that our greatest success was getting Wild Childz to perform after Zumba hour, it was an amazing opportunity to showcase some of the best talent at CHS."
Overall, CHS was able to raise $9,523 for the cause, more than any other Michigan High School was able to donate this year.
"The humanity and selflessness that everyone in attendance displayed was truly a spectacle, and being that we raised $9,523 for the kids—one of the largest fundraisers in CHS history—definitely made MVT 2022 one to remember," Nelson said.
Leave a Comment
About the Writer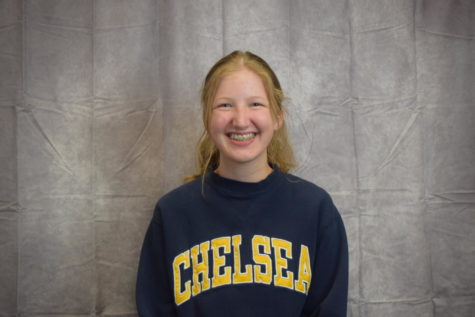 Sonja Schemahorn, Online Editor
Sonja is a junior, and this is her third year writing for Bleu Print. She is dedicated to her violin and plays in the Chelsea Orchestra program as well...