Chelsea Robotics Goes to Worlds
Chelsea Robotics (aka 1502) qualified for the robotics world championships and traveled to Houston this past week to compete against 480 teams. There, they became one of only 6 teams to win the Industrial Design Award–culminating an extremely successful season for the team.
Qualifying for worlds is a process that happens throughout the robotics season and during states. 1502 had to accumulate district points from competition and championship points from states in order to be chosen as one of the 64 Michigan teams that qualified for worlds; not an easy task.
"Michigan is the biggest district in the world," Lead Programmer and Drive Coach Kate Gaiser ('22) said. "There are about 460 teams instead of the normal 100-200 teams, and we have to compete against lots of older teams with huge programs."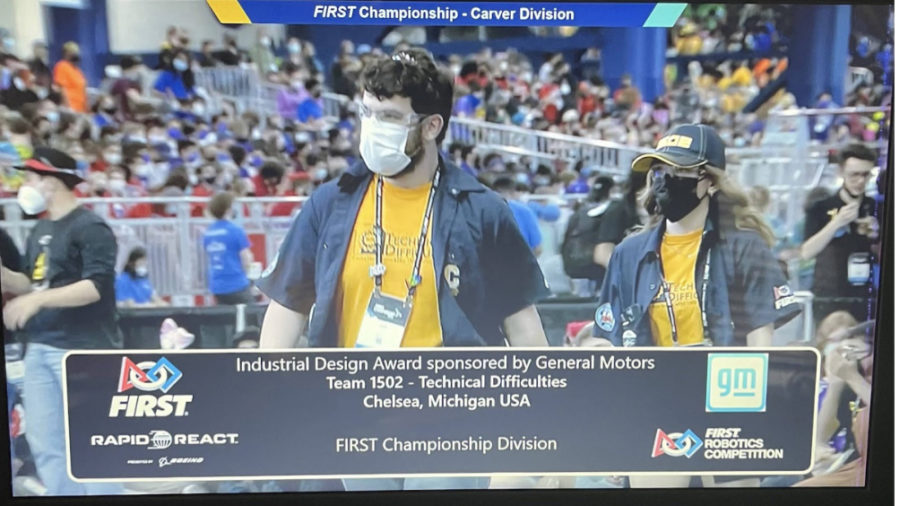 1502 participated in competitions during their season leading up to states in order to earn ranking points. There were about 40 teams at each competition, so they have a unique format.
"On the day of competition, teams are randomly selected to be in three-team alliances," Electronics Co-Lead Lane Ford ('22) said. "You don't know who your teammates will be until you get there, so we talk strategy then."
During the competition itself, everyone is engaged. Whether it be scouting out other teams or talking strategy, everyone has a role. However, there are only a handful of people that interact with the robot as the team competes.
"There is a lot of sitting and watching at competitions unless you are on the drive team," Ford said. "There are two drivers, a drive coach, a human player, and a technician as well as a pit crew that interact with the robot."
At the beginning of the season, robotics teams release the format of the game for the year's season, then the teams have time for preparation before they compete.
"We spend the first week talking about what the design process will look like and the best ways to do well in the game," Ford said. "This year's game was essentially shooting a ball into different hoops and climbing to earn points."
Finding the ideal way to earn points in the game requires a lot of preparation.
"We spend a lot of time not only building and programming the robot, but also practicing driving and making sure we're ready to problem solve during matches," Gaiser said.
Quick problem-solving is an essential skill in competition, as many small things can go wrong.
"We had a bad motor at states that we couldn't figure out; it ended up browning out our battery and not allowing us to move very fast," Gaiser said. "We struggled with it for a day and a half, but an electrical engineer finally discovered the problem and fixed it."
While robotics is a lot of hard work, practices and competitions are also fun and social. Practices typically run from 6 pm-9 pm on Tuesdays and Thursdays, but people often come in on other days and weekends to work on the robot.
"We've made so many friends through robotics," Ford said. "Dexter, Skyline, Whitmore Lake, and more teams have collaborated with us and shaped us into the team we are."
This year's season has overall marked a great success for the robotics team and the program as a whole.
"This year has definitely been a record-breaking year for robotics," Ford said. "The team had only gone to states and worlds once before this year, and this year is our best performing year ever."
Ford attributes the success of the team to not only the hard work and dedication of everyone on the team, but to all the support they have received from mentors and the school district in the form of the new robotics center.
"Our mentors and coaches have helped make this program what it is," Ford said. "They really unified us and got us on track; it really feels like they're a part of the team rather than the coach."
After this incredible season, there are high hopes for the team in the future.
"To be able to come back as a senior after COVID and rebuild the program is really cool," Gaiser said. "Hopefully this year's success for 1502 will be able to continue in future years."
Leave a Comment