Artist Spotlight: Phoebe Harris and Megan Hayduk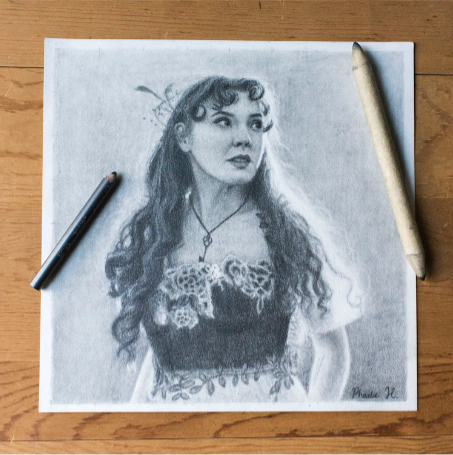 CHS junior and talented artist Phoebe Harris ('23) draws mostly realistic portraits (see above) and enjoys sewing dresses and corsets. In her various art classes and at home with her mom, Harris has learned how to draw Ebony portraits and her mother has also played a big role in her career in sewing.
"My mom has been sewing since she was in elementary school, so she taught me when I was little too," Harris said. "She's always been more into quilting, but I prefer garment sewing [where] I make a lot of my own clothes."
Currently, Harris is working on portrait commissions as well as various sewing projects including an 1890s pair of underwear and a 15th-century kirtle dress. Harris loves to explore the fashion from centuries past and is considering a career in historical fashion with the support of her mother.
"I like to block out some "arting" time with my mom and we make things together," Harris said. "It makes me feel five years old again and I really don't think you can top that."
Her sewing career set aside, Harris is currently taking commissions for hand-drawn portraits. If you would like to have your portrait done you can contact her via email at [email protected], or through her Instagram which is @phoebeaharris.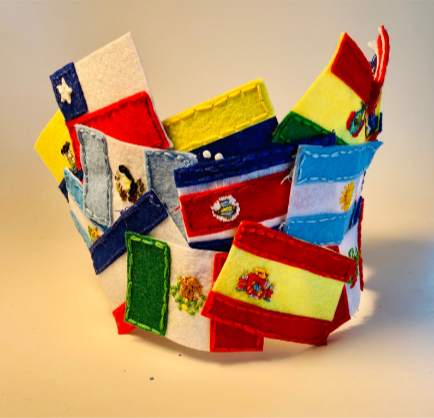 Megan Hayduk ('23) enjoys painting with watercolor with ink and pen details, sewing, crocheting, and knitting. She became interested in these art forms through art classes that she has taken, kits she received as gifts, and painting Christmas cards at Art Club to sell for fundraising.
Some of her most recent projects include a flag crown (see above) that includes the flags of Spanish-speaking countries–a nod to Hayduk's aspiration to become a Spanish teacher–and a vintage-inspired crochet cardigan.
"I just finished my 'wearable art' project for my jewelry class," Hayduk said. "I want to be a Spanish teacher one day so I decided to create 2" x 3" embroidered felt flags of all 20 Spanish-speaking countries and create a crown out of them. It took a really long time and a lot of patience but I really like how it turned out."
Hayduk loves to create and encourages those who like to do the same to come to Art Club! Whether you just wanna hang out with friends, admire the work of others or create art yourself, she urges anyone interested to stop by the art room after school.
View Comments (2)
About the Contributor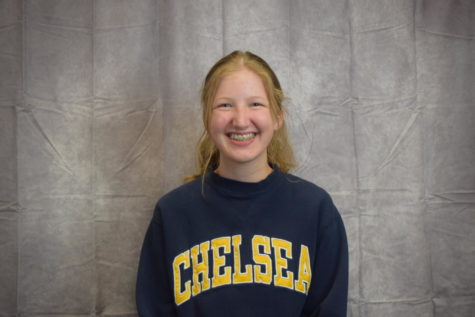 Sonja Schemahorn, Online Editor
Sonja is a Sophomore and this is her second year in the BleuPrint. Other than editing and writing for the BleuPrint, Sonja is involved in Arbor Club, Interact...