Update on Senior Parking Spots
Senior year is meant to be fun. A time to bond before everyone grows up and go their separate ways. Many schools participate in a yearly bonding activity for the senior class and paint parking spots that they get to keep for the year. While The Bleu Print reported this winter that this tradition would soon begin at CHS after a student council initiative, the plans fell through.
Junior Lia Spink wanted to start something at Chelsea High School to grow the relationship within senior classes and do something they would all enjoy.
"I thought [painting spots] would be a really good bonding thing for our senior class because that's something the student council tries to do," Spink said. "I thought it would be something to make our school more unique."
Trying to get things finalized since November of 2021 has been a struggle, and this idea was recently disapproved by Principal Nick Angel.
"I absolutely think [painting spots] is like any other outlet whether it's yearbook or murals in the hallway," Angel said. "I think those are all excellent avenues that help make student creativity come to vision."
Although it would be fun for seniors to paint their spots, there are some cons to the ideas. Angel is not the one to blame for not allowing painted spots.
It is a possibility that it would become a burden to Chelsea's staff, having to supervise the students. Former principal Mike Kapolka and current principal Angel talked to 20 other school districts and they all explained pros and cons. All schools are worried about vandalism and the uncertainty of future problems.
In a year with so much already going on, Angel believed that adding senior parking spots to the list of logistics to manage was simply too much.
"The disapproval was really disappointing," Spink said. "Especially for the rest of the student council and the seniors."
According to Angel, he never means to "squash" anyone's passion or enthusiasm for being a Bulldog. The parking lot idea is constantly being reevaluated but for now the school board has decided it was just too soon to pass the idea for the upcoming school year.
Leave a Comment
About the Contributor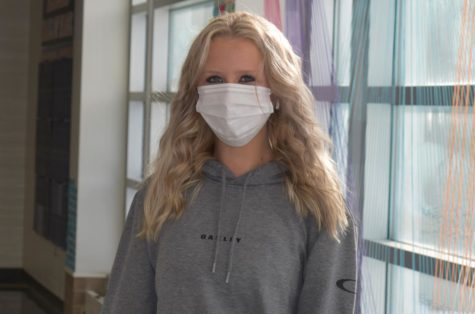 Amelia Robinson, Bleu Print Staff
Amelia is a senior at CHS. This is her first year writing for the bleu print. She enjoys playing softball in her free time.