The Recycling Process at CHS
After  COVID-19 at Chelsea High School, recycling had been put on the back burner because of the draining process. However, the CHS Arbor Club has restarted the recycling and has been improving the process.
"At the highschool school—before the pandemic—there was a cardboard recycling dumpster where all cardboard and paper recycling in the school would get put into," Director of Operations Ronald Mills said. "Mrs.Sinacola and the Arbor Club are starting up recycling and composting again on the 15th of November."
All recycling at the schools goes to Western Washington Recycling Authority, where only paper and cardboard are allowed to be recycled. However, the Arbor Club at the high school collects and recycles glass and plastic separately to make sure that everything that can be recycled is.
"Before the pandemic student council used to be in charge of recycling," Arbor Club Director Shawn Sinacola said. "The Arbor Club actually did not have a hand in it at all because the student council was doing everything; which was a huge burden on them."
As school resumed after the pandemic, the Arbor Club proposed a new approach that included different clubs being in charge of recycling each week. This way no one will get overwhelmed with the process.
"Each of the four participating clubs will have a dedicated week during the month," Arbor Club President Evan Sing ('22) said. "Club members will bring out large bins in the mornings to a few central locations around the school. During bulldog block, each class will send a student to dump their class's recycling into the central bins. Later, members of the club will bring back the bins and empty them into a designated recycling dumpster outside."
Along with starting recycling up again at the high school, Arbor Club is also starting composting again. Composting buckets are placed above trash cans in the lunchroom and in the kitchen where uneaten food can be placed. After school, Arbor club members will gather the buckets and dispose of the food in the composting bin outside.
"Whatever you don't eat your lunch you can throw in the compost with the exception of meat and dairy," Sinacola said. "Banana peels, apple cores, sandwich crust spaghetti or whatever you didn't finish can be placed in the composting bins."
As Arbor Club expands, Sinacola hopes to continue educating students about earth conservation.
"I really want to teach kids the circular way of living," Sinacola said. "For example what you take from the earth you can return to the earth, and that it can be regenerative rather than just consuming then disposing of an item."
Leave a Comment
About the Contributor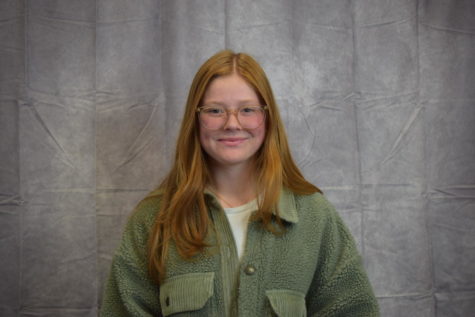 Allie Browning-Perry, Dept. Chair
Allie is a junior and has been writing for the Bleu Print since her freshman year. Outside of writing stories for the Bleu Print, she enjoys playing soccer...