Girls Swim and Dive Win Against Tecumseh to Take Control of the SEC White Division
The girls varsity swim and dive team took the lead in the SEC White Division with a 101-82 win over a small but strong Tecumseh team on Thursday night, battling through a tough away meet on Tecumseh's senior night.
In the final week of SEC White competition before the championship, each team entered as the only undefeated teams left in the division. Chelsea's depth showed through as they won through the number of swimmers that placed.
Starting off the night the A medley relay of Keygan Monaghan ('25), Jessica Neff ('22), Bella Turner ('22), and Amanda Dosey ('22) placed second with a time of 2:02.93. The B relay of Hayley Hopkins ('25), Amelia Christie ('23), Chelsea Paddock ('22), and Tallulah Gorby ('25) came home in third with a time of 2:16.73. Taking fourth place by just 3 hundredths of a second ahead of a fifth place Tecumseh relay was the C relay team of Sofia DeMea ('25), Gabriella Burgess ('24), Clara Johnson ('25), and Sydney Barston ('25).
The second event, the 200 free, came down to just a tenth of a second in determining the winner as Riley Monahan ('23) took first place with a time of 2:09.37. Paiton Doyle ('25) finished third with a time of 2:13.83, and Sophie Knickerbocker ('25) brought home sixth place with a time of 3:13.74.
The Bulldogs continued the meet with a third place finish by K. Monahan in the 200 I.M. with a time of 2:36.11. Emma Zachrich ('24) and Hopkins came in fifth and sixth respectively with times of 2:45.45 and 2:46.94.
Finishing up the last event before the diving break, Turner brought home first place with a time of 25.61 in the 50 free. Placing third was C. Paddock with a time of 29.09, and rounding it out in fourth place was Amelia O'Rourke ('24) with a time of 30.10.
The divers made a clean sweep of the diving, taking the top three spots. Dosey took first with a final score of 185.40, followed closely by Gorby with 183.75 points, then taking third place was Lily Paddock ('24) with 120.30 points.
In the 100 fly against strong Tecumseh competition, C. Paddock brought home third place with a time of 1:14.83. Neff then finished in fourth with 1:20.26, and Barston in fifth with 1:25.40.
In the 100 free, the Bulldogs placed second through fourth. Coming home second with a time of 55.97 was Turner, followed by Doyle with a time of 1:03.97, and Dosey with a time of 1:04.17
Rounding out her two close first place finishes in the distance double, R. Monahan took home first in the 500 free with a time of 5:51.31. Christie finished fourth with a time of 6:21.62, and Hopkins finished fifth with a time of 6:39.46.
Taking home her third first place finish of the night, right after her 500, R. Monahan helped the A 200 free relay team  of Doyle, Dosey, Neff, and her win with a time of 1:52.32. They were followed by the B relay of Johnson, O'Rourke, Gorby, and Burgess who finished third with a time of 2:04.70. The C relay then took fourth with a time of 2:26.87, consisting of Lily Snyder ('24), Fiona Stoker ('23), Knickerbocker, and Kiera Crawley ('24).
Finishing second in the 100 backstroke was K. Monahan, with a time of 1:14.66. DeMea then came in third with a time of 1:18.67, while Zachrich finished it out in fourth with a time of 1:22.59.
Next in the 100 breast, finishing second through fourth again, Neff brought home second place for the Bulldogs with a time of 1:20.17. Christie came in third with a time of 1:26.19, while Burgess came in fourth with a time of 1:27.92.
To finish out the night, the A 400 free relay of Turner, C. Paddock, R. Monahan, and Doyle came in second place with a time of 4:01.46. The B relay of Hopkins, Gorby, K. Monahan, and Zachrich finished third with a time of 4:34.44, and the C relay of O'Rourke, Isabella Treglia ('22), DeMea, and Barston, came in a close fourth finish against a fifth place Tecumseh relay, with Barston bringing home another relay strong.
Winning this meet meant a lot to the swimmers. Having never won an SEC championship before, this year they finally watched Dexter leave the white division after over 20 straight years of winning the championship, which helped open up an opportunity for them they meant to seize.
"While there were many years of swimmers before the 2021 team, they weren't able to have a fair shot with Dexter in our conference," Burgess said. "With Dexter moving out of the white division, the team knew this was our year. It was a challenging meet but the team pulled through and with all our hard work ended on top."
The Bulldogs have their final dual meet of the season in a SEC Red Division crossover at Pioneer next Thursday, and will finish up the regular season November 5th and 6th at the SEC White Division championship in Jackson.
Leave a Comment
About the Contributor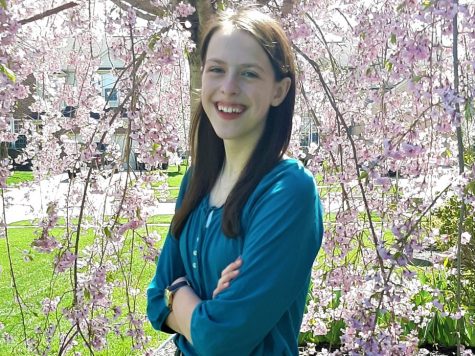 Lillian Snyder, Bleu Print Staff
Lily is a freshman at CHS, and the natural conclusion is that this is her first year writing for the Bleu Print. Besides writing, she enjoys playing the...