Face Behind the Place: Michelle Tupin of Serendipity Books
Six years ago, Michelle Tupin found herself becoming part-owner of Serendipity Books. Two years after becoming part-owner, Tupin took over the bookstore in 2017.
Serendipity is a small finely curated bookstore located downtown Chelsea. In the time Tupin has fully owned the store, she has made a few changes that have allowed for it to become the unique, local and curated store it is today. 
"I have a shelf where local authors can see their books for sale," Tupin said. "Pre-COVID days, we would also have reading and open mic nights. That's something we did with Chelsea High School students a lot. A group of student writers would come by and read their work often."
She's not just an enthusiastic bookstore owner, but a writer as well, with a degree in Creative Writing with a focus on short stories. She uses her passion to teach writing at Serendipity and through the Chelsea and Dexter libraries. Tupin herself has had two short stories published in literary journals.
"They're very literary short stories, so they have a strange sort of theme," she said. "One of them was about a woman and a parrot that was ultimately about hope. I wanted it to be a hopeful story."
Tupin has always been a bookworm, and it's not rare that she walks down the street with her nose so stuck in a book she walks straight into lamp posts. One of her favorite books is Frederick by Leo Leoni.
"It's about a group of field mice who are supposed to be collecting supplies for the winter," Tupin said. "Frederick proceeded to just sit on a rock and say I'm collecting stories for the winter while all the other mice rolled their eyes and continued working. When winter comes, their food is nearly gone and everyone is kind of depressed. Frederick then shares these stories that he collected and it bolsters the community. This shows the importance of stories, myths, and literature."
Over the past year Tupin has had to pivot the way her store functions constantly due to COVID-19 guidelines changing so often. Her business had to close, then the business had to offer free pickup, and they even had to make sure everything was available online. 
"I saw enormous community support," Tupin said. "Everybody talked about the importance of supporting local businesses and buying local. In Chelsea, people did that and went out of their way to buy local. To see that love and support in the community has been really extraordinary."
Serendipity creates a friendly and unique atmosphere not just with books, but with a store cat named Emma, although once the pandemic hit she decided that she liked being at home more than being in the store. 
"I now bring my dog Odie who is a twelve year old rescue to the story with me," Tupin said. "If you visit the store, you'll see Odie. He is a sweetheart and he likes to greet everybody by the door. He loves to get lots of customer attention and usually follows people around the store.
In the years of owning a store, Tupin has been heartwarmed in the support she has seen from teenagers.
"People talk about how teenagers only have their head stuck in their devices," Tupin said. "That's not what I see at all in the bookstore. Some of my most passionate customers and people who love the bookstore the most are often younger people, who know about the power of books and are excited to have books be a part of their lives."
Leave a Comment
About the Contributor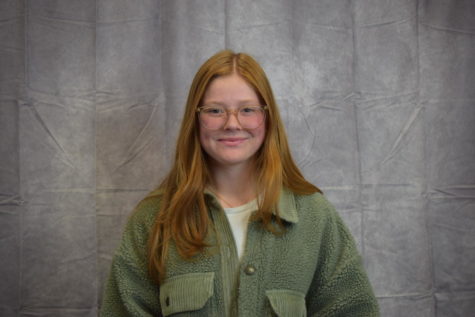 Allie Browning-Perry, Dept. Chair
Allie is a junior and has been writing for the Bleu Print since her freshman year. Outside of writing stories for the Bleu Print, she enjoys playing soccer...