Show Review: WandaVision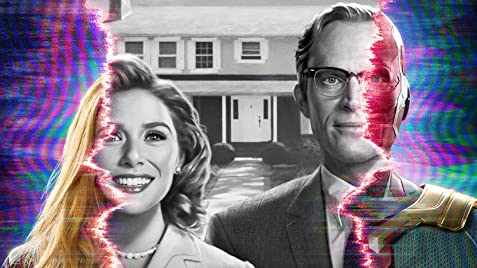 If you love Marvel, you have probably heard of the show WandaVision. Available exclusively on Disney+, this new addition to the Marvel universe has been massively popular due to its unique filming style and is one of the many new series that have appeared after the final Avengers movie End Game.
The show starts in black and white and as time goes on the series starts transitioning into color. WandaVision has a very unique and unusual feel to it that plays like a classic mystery thriller but the show also has a Full House sitcom feel. With Wanda having her family in the suburban town with her friends and the kids, that "Full House" vibe is going strong but is paralleled by the chilling supernatural elements that both Wanda and Vision add to the movie.
WandaVison is a reality where Wanda Maximoff, also known as the Avenger "Scarlet Witch," creates a "fake world," going back in time to have a "normal life" with her husband Vision: a super-powered robot. Although Vision died in a previous movie, Wanda stole his corpse and brought him to life in the hexagon, the space in which Wanda's fake world exists, erasing most of his memory. Wanda leaves Vision in the dark about the fact that he died or had a life before this one, and only the fact that he loves Wanda remains.
In Wanda's fake reality, she has the "normal" life she's always desired. Her husband Vision has a job, she has a neighbor named Agatha who she hangs out with, and everything seems to be going well…besides the fact that Wanda and Vision have to hide their abilities. Things start to ramp up after Vision tries to leave Wanda's fake reality to try and figure out why he has no memory, forcing Wanda to cover more and more ground with the hexagon stealing the minds of more people.
Overall, WandaVision has gotten good reviews with a 92% Rotten Tomatoes and an 8.2/10 IMDb rating. The newest addition to the Marvel Universe is not a disappointment, although many have said the first and second episodes are just average, the show appears to have gotten better moving forward. 
WandaVision keeps the viewer wondering who they should be rooting for and provides a very interesting view of Wanda. This show has enticed me since the beginning. I'm very into noir-style movies, and the start of this show was perfect with the hiding and not knowing who the bad guy is.
Leave a Comment
About the Contributor
Ethan Kwaske, Bleu Print Staff
Ethan is a freshman at CHS, this is his first year being part of The Bleu Print. He enjoys hiking, running and classical music, and he wants to try out...