Blue & Bold: Wismont's Whimsical Renaissance Fairs
Ms. Rachael Wismont, an English teacher at Chelsea High School, hasn't been to a Renaissance festival in years, but she can still remember the childish delight invoked by being surrounded by friendly space, good food, old-timey costumes, and silly performances.
Renaissance festivals are known for being out of the ordinary, goofy, and entertaining. As a child, Wismont would go to Renaissance festivals with her family, and then with her cousin once she got older. Wismont recalls the feeling of wandering around the festivals, dressed up, sight-seeing and experiencing an aggrandized, playful version of life as it may have been during the Renaissance era.
"To be honest, it was just fun to be in the space," Wismont said. "I feel like the older you get, the less acceptable we feel like it is to be goofy, have fun, and wear costumes. It was really fun to have a space to have that kind of fun. If you think back to elementary school age, most people loved dressing up for Halloween, but it's just a hard sell to get people to dress up for spirit days [once they're older]."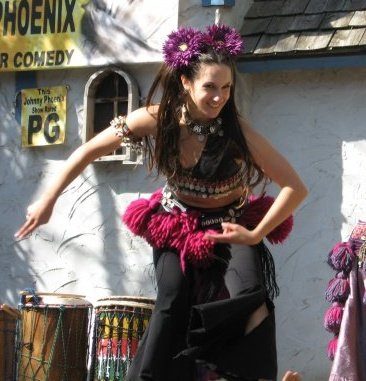 There's a connection in her mind between the Renaissance festival and that youthful experience. Although she hasn't been to a festival in several years, she expresses her hope to return in the future to continue that tradition. Even when she returned to the festivals when she was no longer a child, that wonder would still return.
"I think what was really beautiful about that time and going to the Renaissance festivals is that it was really remembering the joy of playing, the joy of being silly, and not feeling like we had to be a certain way," Wismont said.
Her experience in theatre in high school and as an adult has ties to how she enjoys the festivals. Dressing up, pretending to be somewhere else for a while, and leaving all your worries behind is similar to the experience of theatre. Being able to "get out and experience a different kind of life for a day" was so fun partially because of the theatrical element to it all.
"I've always been the kind of person who enjoys playing pretend. I did theatre and choir when I was in high school, so I've always had a kind of performance element," Wismont said. "I've been in a dance group, a band, an opera, I've acted in dinner theaters, and so I've done a lot of things, even as an adult. I don't know so much that the Renaissance festival has impacted my teaching of acting per se, but I think the fact that I enjoy acting is also part of why I enjoy Renaissance festivals."
The festivals in a long time, it doesn't mean that they haven't had an impact on her life. Sometimes it seems like such a small, fun activity to do could have no real benefits, but it seems that feelings of joy and excitement often have little lessons sprinkled into them. The Renaissance festival is a silly, exciting way to spend a weekend or two, but, for Wismont, the small joys in life reflect the bigger picture.
"I think my students who have had me might be able to say that I'm perhaps a little bit goofy, and I really do think that a part of my job as a human, or an educator, is to remind people that we can have fun in life," Wismont said. "The fact that I went to those Renaissance festivals and had that weird fun is a reminder that life is fun. There are so many things, and maybe Renaissance festivals aren't your thing, but everyone has a thing. So do it, and don't ever worry about whether it's something that's weird or not."
Leave a Comment