Everything to Know About 2021 Solo and Ensemble
Due to COVID-19, many music performances/concerts for all music programs in Chelsea have been canceled, but one event remains a constant: Solo and Ensemble. For student musicians, this is one of their chances to perform before a judge and be evaluated on their skill as a musician, even if it does look a bit different this year.
Between February 8-14th, Chelsea students involved with the event will head down to the band or orchestra room to record their performance for the event.
"There's a window for Solo and Ensemble, not just one day," band director Alison Roberts said. "Students will be sent a link or I will be sent a link, and they'll come to the band room and record their performance in one take. It's live, so they don't get another chance to do it, but there is a window of time that they can upload the video." 
A student's performance won't look too different from years past. Soloists still have the option for the proficiency exam, and they only have one chance to record their performance.
"If they are a soloist in 10th through 12th grade, they have an option to sign up to do proficiency, which means they will also perform scales," Roberts explained. "In a typical year, they would also sight read, but they're not doing that now. So for them—when they log in—there's gonna be two different links that they click to record, first their scales, then their solo."
Roberts breaks down what it will look like for a student when they are going to record their performance—which will be in either the band or orchestra room through a link sent to the school.
"For students who are signing up to play a solo without the proficiency, they will just have a link, and they'll test their sound," Roberts said. "After that's done, they'll videotape themselves playing. They also need to upload a PDF of their music so the judge can look at the music while they perform. The piano accompaniment is also an option for students, either by playing in the band room, or pre-recording their piano accompaniment track and play along."
Normally, students who earned a one at District Solo and Ensemble would move on to State Solo and Ensemble. This year there are no states, so applicants will need to step up their game to keep up with the harsher judgment.
"Students will be judged using the same rubric that they were judged with before," Roberts said. "But since there is no State Solo and Ensemble this year, you'll just get that first score. Students will get the number score right away so there's a chance that they might judge a little harsher this year."
In a normal year, students expect to get their scores back soon after their performance. With these new systems in place, students should expect results to take a while.
"I don't know for sure, but I'm positive results will be out within a month," Roberts said.
Even though some things like scoring, performance, and schedule may look different for students this year, Roberts feels that Solo and Ensemble will still be a "positive experience for students."
"It's great that students still have a goal of sorts to work towards," Roberts said. "The hardest part about COVID and music is that we had a lot of concerts canceled. All those events that we usually are working towards didn't happen. So Solo and Ensemble is just a nice thing where you can say: 'Alright, by this day, I need to have my solo ready to be performed.'"
In a time when joy can be difficult to find, this event is music to our ears.
Leave a Comment
About the Contributor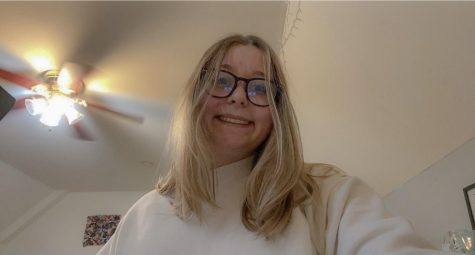 Mikaila Leonard, Bleu Print Staff
Mikaila is a sophomore at CHS, and this is her first year writing for The Bleu Print. Outside of writing she is involved in the Chelsea band program and...