Delay on Winter Contact Sports Ignites Controversy
Contact practices and competitions for high school basketball, hockey, wrestling, and competitive cheer teams that were set to start February 1st have been delayed until February 21st after the latest MDHHS order.
According to MaxPreps, Michigan is only one of 10 states not currently allowing high school basketball; 20% of states that are not currently playing winter contact sports.
Skiing, bowling and men's swim and dive are currently able to practice and compete because they are lower risk sports that allow for more social distancing. Additionally, spring and fall sports are permitted to have four-person workouts as long as athletes stay six feet apart and wear masks.
Both inside and outside of Chelsea, there is a loud call for the extended ban on winter contact sports to be shortened. Alicia Tropea, a parent of two youth Chelsea players and wife of varsity boys basketball head coach Josh Tropea, wrote a Change.org petition asking that Michigan resume high school basketball. After sharing the petition on social media, it now has more than 30,000 signatures.
"I got to the point where I just really felt sad for these kids," she said. "They've been faced with a moving target since the first shutdown in mid-November right before basketball was supposed to start, and since then they've been given two-week pause after however-many-week pause, and it's gotten to the point where they deserve to know—from a motivation standpoint—what's going to become of any of the hard work they have been doing in these non-contact practices."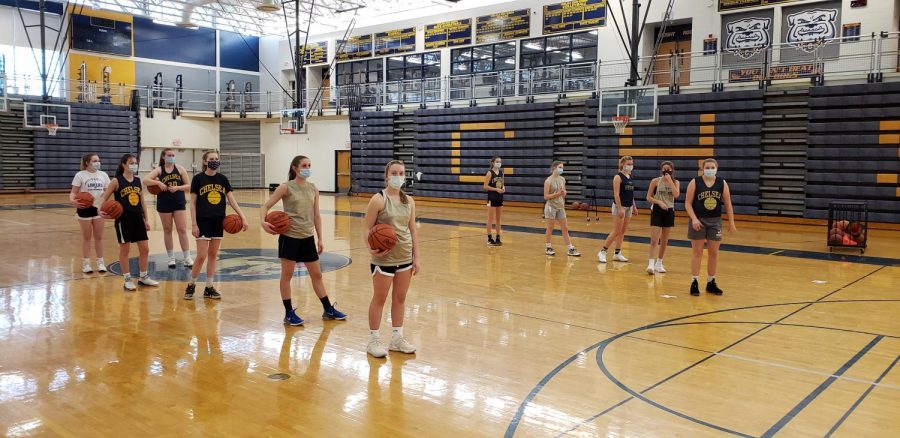 Senior varsity basketball player Emily McCalla is committed to playing for Concordia University for next year. This is her last season as a high school player, and though she is improving her conditioning and skill work during non-contact practice, she is "lacking the contact and game-like experience" that her collegiate and out-of-state teammates for next year are getting.
"I'm over the fact that we've been led on about the start date of the season since early November," McCalla said. "I wish we got a clear yes or no answer so we could at least make future plans [to play AAU and spring sports,] but as of right now it is hard continuing non-contact practice without the guarantee we have a season."
Another student affected by the extension of the ban is freshman varsity player Joey Cabana, who has also raised awareness for the extension and has hundreds commenting and reposting—in both opposition and support—on his recent Instagram post on @joey_buckets11 with over 4,200 likes. 
Outside of Chelsea, Dr. Nikolai P. Vitti, the superintendent of Detroit Public Schools Community District, wrote a letter directly to Governor Whitmer on Monday asking her to repeal the ban or at least "communicate to the student-athletes with clarity about why the season has been suspended and what needs to happen for it to start."
Athletic director Brad Bush retweeted the letter saying, "This is well written and to the point. Dr. Vitti makes great points about the status of winter sports. It is very much worth your time to read."
The letter addresses many points, such as the 99.6% of football players that tested negative during the playoffs, the fact that other states with higher positive rates are playing and the inconsistency between restrictions on in-person school and dining versus contact sports.
On Tuesday, the MDHHS released a statement to MLive clarifying its reasons for delaying the season. In the statement they cited "there were 42 outbreaks associated with athletics (K-12 schools, professional, collegiate, and commercial venues) in August and September of 2020 before restrictions on contact sports were implemented" and that "local health departments are still identifying outbreaks on teams that are currently playing."
The statement also said the state is trying to prepare for spikes with the arrival of the new B.1.1.1.7 variant "that other countries that have seen this variant have experienced" and explained that even with mask mandates and extra precautions, "disease transmission cannot be completely prevented when players are in prolonged or intense contact," especially when the contact is indoors where there is no natural ventilation.
"We will continue to carefully watch the data to assess what other activities can be permitted," the MDHHS statement to MLive ended with. "We are also laser focused on achieving our goal of vaccinating at least 70% of Michiganders age 16 and up as quickly as possible so we can end this pandemic and get back to a sense of normalcy."
In a press release on January 22, the same day as the day of the governor's press conference announcing the extension of the ban on contact sports, the Michigan High School Athletic Association admitted that it "did not anticipate this delay in winter contact practices and competition" and it "remains FULLY committed to winter and spring sports seasons as this latest set of hurdles will require continued creativity in finding the way for both remaining seasons to be played." 
"We are unable to provide specific plans yet as we are still evaluating the best options for delivering a memorable experience for 60,000 athletes involved in Winter contact sports," executive director of the MHSAA Mark Uyl said in a press release earlier today. "We will continue asking questions and advocating for all of our schools and athletes as we work toward building our next plans for seasons in basketball, competitive cheer, ice hockey and wrestling. We will be ready with specific timelines as soon as MDHHS clears contact sports to begin full activity."
After the start of Alicia's petition, more Michiganders have gotten together and started both a Let Us Play and a Let Them Play hashtag and campaign that are starting to fundraise to help afford COVID-19 testing in case that would allow sports again and are organizing a protest in Lansing this Saturday.
Alicia's sons have been playing travel basketball in private facilities the last few months wearing masks, practicing additional distancing and having extra cleaning between games, and she is "yet to hear of an outbreak or of a negative effect."
"It has only been a positive experience for us, and I have no reason to believe that the same would not happen with high school," she said.
When swimmers, volleyball players and football players were tested after the start of the November pause on sports in order to be able to finish their state tournaments, the MDHHS told MLive that the pilot testing program found that 99.6% of athletes tested negative.
 "To me, this shows these athletes and these teams are not carrying the virus like it was thought and feared that they were," Tropea said.
As Alicia and her 30,000 petition signers show, sports are important to many and impact many more in not only Chelsea but across the state and the country. Safety and well-being are top priorities during a pandemic. However, when thousands of student-athletes are not getting the same experience as those in other states in the same unprecedented times, the lines between safety and well-being blur, and student-athletes, parents, coaches and their supporters are using their voices to ask for clarity.
"I really applaud our young people for their approach and their flexibility over the last 10 months dealing with this pandemic," Tropea said. "During some of the most developmental years of their lives, they've been asked to change their lives in so many ways, and for the most part, kids have embraced it and done what they needed to do. I think now as adults we owe it to them to fight a little bit to bring back some normalcy in a safe way."
View Comments (1)
About the Contributor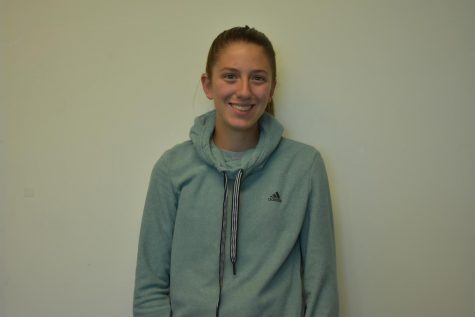 Natalie Davies, Bleu Print Staff
Natalie Davies is a senior at Chelsea High School. This is her third year with the Bleu Print. Outside of writing and editing, she enjoys running, reading,...