Ninth Graders' Hot Take on Hybrid
While this school year has been an unusual experience for everybody at Chelsea High School, it has been especially strange for the ninth graders, who began high school virtually and are just now able to set foot in the building if they choose. From navigating a new school with one-way hallways to logging onto Zoom meetings for hours a day, they have not had the typical freshman year. 
"I expected a lot of different things," Lindsay Favre ('24) said. "I expected that I'd get to walk around and that I'd get to sit with my friends at lunch, but it is [currently] very secluded."
While seclusion has been a challenge for everybody at CHS, the freshmen have found extra challenges entering a new school they're unfamiliar with. Freshman Jake Ward said he missed "getting to know the school before going into sophomore year."
"Usually we [freshmen] would get to learn how the hallways work with a tour [at the beginning of the year], but now we're just thrown in and told 'Follow the arrows'," Favre said.
In addition to getting to know their way around the school, freshmen have also missed the student-teacher connection that is more difficult to create online.
"It was all new, so it took some learning to figure out how to get everywhere and who my teachers were," Ward said. "I think the hardest part [of coming back] was figuring out what kind of teachers I had." 
Fitting into the new school with the virtual classes, reduced in-person classes and strict lunch seating has been difficult as well.
"A lot of different things have been more challenging," Ella Monsma ('24) said. "For example, finding ways around the school and especially fitting in with others." 
Part of the trouble in fitting into the school has also stemmed from the difficulties in getting involved in extracurricular activities. In a school where getting involved is important and expected, it's been harder than ever this year for freshmen to learn about what they can do to get involved.
"It's hard to learn about new clubs and sports the high school offers with a lot of them being postponed and canceled because of the pandemic and not being in-person for most of it to get informed about them," Monsma said.
However, the changes made this year haven't all had negative impact on the freshman. Ward and Favre agreed that the workload has been very light.
"The homework is way lighter, and it doesn't really feel like homework," said Favre. "You don't do a whole bunch of work in class and then have to go home and do [more] work." 
If there is one thing the freshman miss, though, it is the high school experiences that were once taken for granted.
"I was hoping we'd get to do homecoming and all those kinds of fun events," Favre said. 
While homecoming was a large event that the freshman missed, there are small experiences– such as eating in the commons, spending time with old friends and meeting new people outside of their class– being missed as well.
"I think [during pre-pandemic years] there was more time spent in the commons, and I wish I had that opportunity, too," Monsma said. "[I would like to] be able to sit with more people and more of my friends while getting more chances to branch out and meet new people."
Even though this year hasn't been the typical first year of high school for the ninth graders, the return to hybrid is bringing them closer to the pre-pandemic experiences they will hopefully be able to have in the years to come.
Leave a Comment
About the Contributor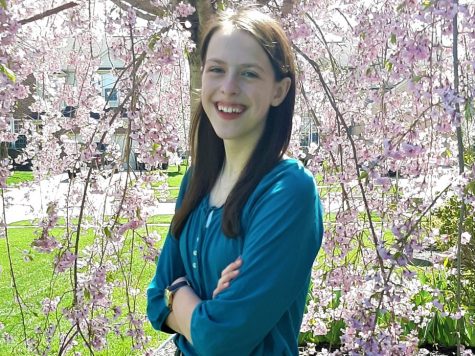 Lillian Snyder, Bleu Print Staff
Lily is a freshman at CHS, and the natural conclusion is that this is her first year writing for the Bleu Print. Besides writing, she enjoys playing the...