Football Wins Region Championship After Two-Month Delay
The Chelsea Bulldogs beat Flint Kearsley 38-22 to win the regional title and advance to the D3 state semifinals for the 3rd straight time after a two-month season delay.
Before the game last Saturday, January 9th, the last game the Bulldogs played was against Brother Rice on November 13th before the November MDHHS COVID-19 order. During the hiatus, the Bulldogs still worked hard even though they couldn't be together.
"After we found out that we weren't allowed to play, we just started doing zoom meetings as a way to practice," starter Trenton Hill('22) said.
As soon as the restrictions on footballl were lifted, the team got back on the field and started working towards their regional final game with a goal in mind.
"The week the shutdown was lifted was our first full week going back to practice in-person," Hill said. "We just went over all our plans and important ideas, and we made sure we had all our assignments down and that we were ready to play."
Though it had been eight weeks since the Bulldogs had last played, it didn't take long for the team to get into the swing of things, as they scored 4 touchdowns and 1 field goal against Kearsley to bring the score to 31-8 at half time. 
The game opened up with a 3-yard touchdown run from Trenton Hill to give the bulldogs a 7-0 lead. This was later followed by a 25-yard touchdown pass from senior quarterback Griffin Murphy to fellow senior Joseph Taylor. Then a 1-yard touchdown run by Murphy extended their lead before another 14-yard touchdown pass to Junior Nick Fisk. The Bulldogs defense also gave a strong performance forcing 2 turnovers— both of which senior Logan Vaughn intercepted.
"Griffin did really well passing the ball, and I think he had two or three touchdown passes," Hill said. "He had a good game and our defense also did pretty well with two turnovers."
During the second half, the Bulldogs fought hard and maintained the lead above Kearsley. The second half opened up with a 13-yard touchdown pass from Murphy to Junior Lucas Hanifan. However, Kearsley did not let the bulldogs win easily, as they scored 2 touchdowns in the fourth quarter to bring the final score to 38-22. 
The Bulldogs' tireless effort awarded the team with another regional final trophy and a rematch against the defending state champs River Rouge this Saturday at 1 PM for their third chance in the past three years to make it to the state championship. Fans looking to stream the game live can do so with a subscription to NFHS Network.
"This was my first regional final game, and it felt good winning it," Hill said. "However we have bigger goals than that, so we have to stay focused and keep on going ."
Leave a Comment
About the Contributor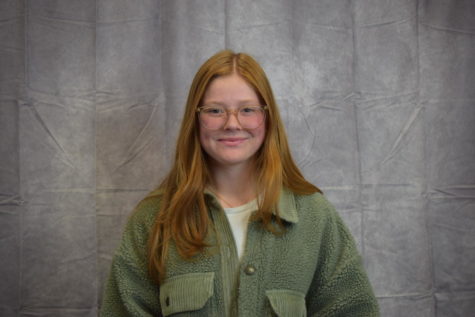 Allie Browning-Perry, Dept. Chair
Allie is a junior and has been writing for the Bleu Print since her freshman year. Outside of writing stories for the Bleu Print, she enjoys playing soccer...