Face Behind the Place: Sous Chef of Silver Maples Jeff Collins
Since the beginning of the COVID-19 outbreak in March, sous chef  Jeff Collins of Silver Maples of Chelsea has experienced the challenges first hand. Collins, who has been working at Silver Maple's for 5 years, handles the daily food prep and makes sure everything is fresh, even in the middle of a pandemic.
Since day one of quarantine, Collins, along with the other chefs, have been working hard to decide what is best for the residents so that they can continue to enjoy home-cooked meals every day. 
"We had to adjust our process in a way that works for everybody: the waitstaff, the RCAs, and us," Collins said. 
With all the changes caused by COVID-19 in the outside world, there also have been changes within Silver Maples and the work environment. With the restrictions and orders made by Governor Whitmer, any services provided for nursing homes have been either cut back on hours and staff or have come to a complete pause. Silver Maples closed all three dining rooms to protect its residents, moving all dining services to a tray service.
"Not only are things slower, but there are all these extra steps we have to take now," Collins said. "And Silver Maples isn't a restaurant, but we try to simulate that experience. Using boxes instead of plates just takes away the experience completely."
Collins did not experience too many personal challenges once COVID-19 shut down the state of Michigan. Other than not being able to go out with friends, he didn't really notice a difference.
"I miss getting with my friends and getting my hair cut," Collins said. 
While not at work, he has managed to keep himself busy at home with his two boxers, Bo and Cabrera. Collins says he looks forward to coming into work and cooking. He enjoys the process of prepping the food and the focus needed for putting the dish together.
"What can I say: it keeps me out of trouble," Collins regarded.
Collins's experience in cooking started long before he came to Silver Maples. At the age of 13, he started his journey in the kitchen of Coney Island, where he spent three years learning how to stay on task and work efficiently. Since then, his cooking career has taken him all over the country, gaining him the experience of working with a variety of staff and management, which he says is one of the greatest challenges of running a kitchen.
"Being understaffed and having too much management, or just bad management makes an easy job difficult," Collins explained. 
After working in two Country Clubs and a Joe's Crab Shack, Collins moved onto greater things. He opened three different restaurants and was a traveling trainer for Landry's Corp., as well as T.G.I. Fridays and many more restaurant chains. The challenges he faced with these past businesses, whether it was with the staff, the management, or equipment failures, has prepared him for adapting to quarantine dining services and giving him the patience to do so.
Leave a Comment
About the Contributor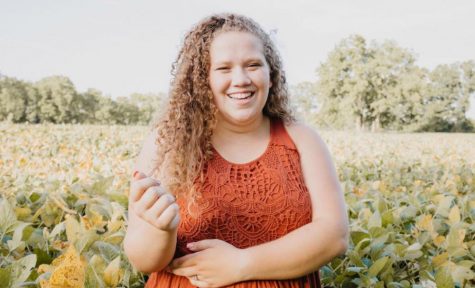 Kaylee Norton, Bleu Print Staff
Kaylee is a senior at CHS, and this is her first year writing for Bleu Print. Outside of writing she enjoys cheering, working, and spending time with friends...