Bulldog Spotlight: Riley Thorburn
From training to run 400 meters, to 5 kilometers, to 26.2 miles, senior Riley Thorburn can always be found running the path to her next goal. Whether you know her as a runner, public speaker, SRSLY advocate, student, or teachers' daughter, knowing her as a person is where you discover the depth of her goals and richness of her character.
Thorburn aspires to attend the Coast Guard Academy next fall in New London, Connecticut, a small town on the East Coast. Whereas moving away from home seems inevitable for her, it bears its own burdens. Leaving the only place she has ever known means leaving behind more than the small town scenery, but her friends and family too. 
"I would miss the relationships I've made because of my involvement here," Thorburn said. "I am not ready to leave them. I know there will be amazing people wherever I go, but there are so many special people here that have made my life what is."
The people closest to Thorburn have witnessed the growth in her mindset and attitude toward life. Where she has always worked to excel in the school environment, Thorburn quickly learned that in high school what you've always known can only get you so far. Students are often trapped in the cycle of defining themselves by their successes, which is a detrimental process that tricks them into thinking their worth comes from performance. Thorburn was once subject to this trap but soon realized that grades are meaningless against your character. 
"Grades don't define you as a person," Thorburn said. "But the work you put into anything does. I learned this after failing my first math test. Later that trimester, I studied an excessive amount for the final and wound up with an A." 
If she hadn't recognized that lack of understanding as an opportunity to grow, that grade may not have been possible for her. Not only has this lesson Thorburn learned been applied to the school environment, but it has also carried into her running career. 
Last school year, Thorburn was injured during winter running and the indoor track season. Instead of wallowing in the worry that is bagged with broken bones, she decided that she didn't want to delay any progress that could be made toward her senior year. She cross trained until she healed up, and from there Thorburn looked within herself and to her closest friends and family and collected the dedication and grit needed to run a marathon: the longest distance she would run yet. 
Now, post-marathon run, Thorburn is sustaining that same lesson into her college plans. If running for a college does not work out for her, Thorburn imagines herself getting into more marathon training. 
If it weren't for her ankle injury in the gut of her junior year, that marathon distance would not have seemed plausible as a continued means of growth for Thorburn.
Whether it's a college in Connecticut or up north Michigan, division 3 cross country, or marathon training, Thorburn will continue to make decisions that impact her growth as a person rather than her success under a title. No matter where she goes or where she ends up, Thorburn knows that it's more than a distance that gets you far. 
View Comments (1)
About the Contributor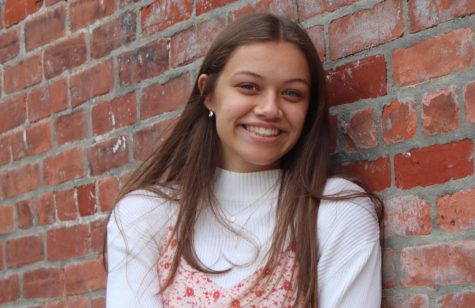 Haley Holm, Bleu Print Staff
Haley is a senior at CHS, and this is her first year writing for the Bleu Print. Outside of the Bleu Print, she is part of the cross country team and has...