Athlete Spotlight: Isobel Alford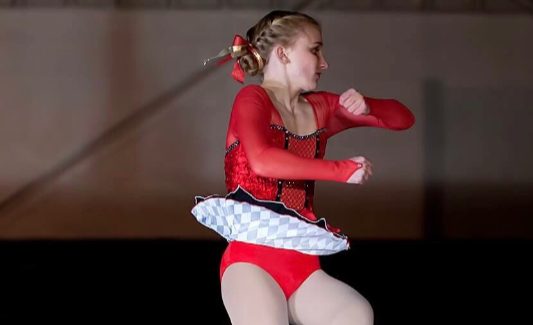 Chelsea is well known for its athletic programs, and the community prides itself on its successful student athletes. However, not all sports are represented within school, and figure skating is just one example. Isobel Alford ('22) is part of the Chelsea Figure Skating Club at the Arctic Coliseum.
"I started skating when I was 6 years old and began competing shortly after," Alford recalled. "I skate every day week day and Saturdays, and I do some additional conditioning. I usually skate between 14-16 hours per week."
Figure skating is a very demanding sport, physically and emotionally. Skaters need to be able to compete and finish their program no matter how many times they fall down. 
"I think that figure skating requires lots of hard work and dedication," Alford explained. "It is similar to all sports at a high level."
While the skating club reflects a Chelsea name, very few students know of it. Alford is okay with the lack of a school association because she enjoys how the program is run. 
"It would be great to be recognized by the school but I think it would be extremely difficult," Alford expressed. "This is due to the unique circumstances regarding students of many ages and how different schools all practice in Chelsea."
Alford's greatest accomplishments over the past year were placing 4th at Eastern Great Lake Regionals which qualified her for the Midwestern Sectionals in Allen, Texas, but the wins aren't the only reason she loves her sport. With few ice rinks open to figure skaters in Washtenaw County, skaters of all grades from different schools practice and compete together, and the people she meets have a huge impact on her.
"I have made many unique friendships through the sport that I wouldn't have made without skating," Alford said. "Since there are few ice rinks in the area with figure skating programs, many of the girls are from Dexter, Ann Arbor, and Saline, allowing me to meet more people."