Bulldog of the Week: Marianna Carpenter
Marianna Carpenter ('20), like many other students, loves being active and is very busy. What makes Carpenter special is that she sings and dances but is still excelling in her academics.
"I love to perform, sing, dance, and act," Carpenter said. 
Carpenter began performing in Company C. when she was a sophomore and has continued into her senior year. She wants to be an actor, singer, or dancer in the future. Carpenter spends her free time randomly choreographing dances and singing.
"I'm currently working on auditioning for college scholarships for next year," Carpenter said.
Theatre activities are not the only thing that once filled her time, sophomore year Carpenter was on the varsity volleyball team. She left volleyball behind and came back to the stage, which she loves. Besides all of her things to do, her family hosted an exchange student from Tunisia a couple of years ago. She says that was an experience of a lifetime.
"I honestly feel blessed having met Yasmine Genima," Carpenter said. We are very grateful to her and we enjoyed the experience that we had with her. She has also been back to visit us multiple times."
Carpenter's best friend is Eleanor Mahalak ('20). They have known each other for a very long time, but Carpenter said that they hated each other when they first met. After getting to know each other they became close
"Marianna is one of those people you want by your side in any situation," Eleanor said. "Whether you're sad, happy, or angry, she goes along with any mood. Marianna has so many great qualities I could sit here all day and list them but one of my favorites is how creative she is."
Her sister, Mikinley Carpenter ('22) said that Marianna is very kind-hearted, hardworking, and a lovable sister. Mikinley described her sister as a friend, family, and all in all a great person
"Keep pushing through life and struggles," Carpenter said. "This generation does have a lot of pressure on their shoulders to move this world forward so just keep encouraging good and positive vibes, and have a smiley face."
About the Writer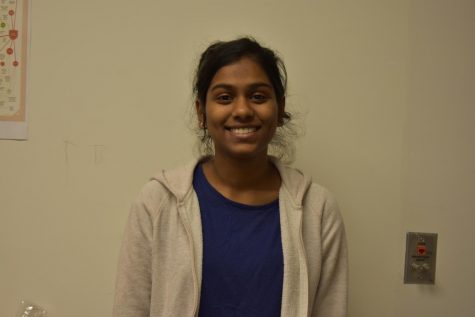 Abitha Baskar, Bleu Print Staff
Abitha is an exchange student from India and a senior. She really loves to make friends. You can always see a smile on her face and she needs everyone...