Creative Feature: Amelia Hallsell
When Amelia Hallsell ('23) writes, she paints pictures using both familiar and elusive emotions.
Hallsell says she writes about "life, the people around me, and how people make me feel."   
Hallsell pays attention to her surroundings often. She observes the people and things that surround her, and draws inspiration from them. Her creativity comes from ordinary sources, but her poetry is very unique.  
"I don't write like anyone else," Hallsell states proudly. 
Her writing style is very special to her. She says that in her poetry, she describes how she feels using things that only she really understands.
Hallsell states, "I mostly write poems about actually how I feel." 
When asked why she writes, she answers promptly, "for a stress reliever, it's very helpful." She also says that the location she writes in can influence her writing process and ideas. 
"I let the words fall out, and go from there," Hallsell says, explaining her writing style, "I'm more emotional at night and it's easier to get the words out."
Hallsell is full of advice for anyone who wants it. She suggests that anyone who like to write keep trying and find a time and place where they write the best. She would suggest that every student writes in order to have a place to record their feelings.

easier
by Amelia
a question asked
by oh so many
sometimes they think
it's beyond their reach
just for once in their life
the answer they need
or will it stay unknown
like the secrets we tend to keep
just like all things
the answer is there 
just hidden somewhere
we are all unaware 
About the Writer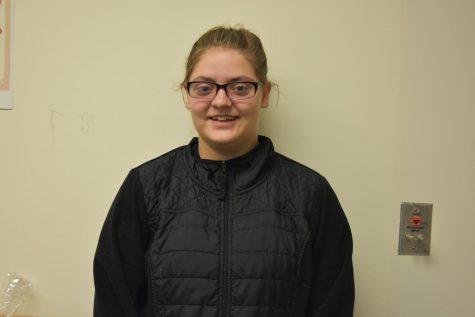 Rachel Geer, Bleu Print Staff
Rachel thinks water polo is very fun. Don't tell her horses that she has a favorite. She loves singing and being with her family and friends.